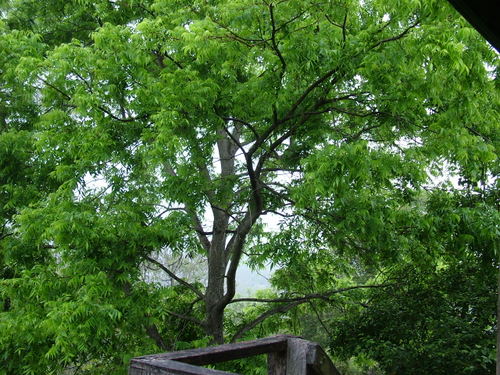 We have a magnificent, 20 year old pecan tree on the eastern side of our house, shading the verandah that runs along that side.  It is deciduous, and so in winter it loses all its leaves and the verandah is bathed in light, a glorious spot to sit and eat breakfast in the sun, or for a Sunday brunch party.  It's quite late to leaf up again in Spring but just as the sun is getting belligerent in October it bursts into leaf.  For all the summer the verandah is cool and shady and you can sit and watch the myriad of birds that use it.
From New Year on, you can see the nuts developing.  But you have to be patient.  You have to wait until the husk opens and the nut is ready to fall of its own accord.  Early picked nuts never ripen. As we have discovered.
By about the beginning of March, the cockatoos start considering the nuts ripe enough for them and flocks arrive every day.  We bang pots and throw things and generally swear at them and if we are lucky, manage to scare them off enough to allow some nuts to ripen.  By early April, the brush turkeys start considering the nuts ripe enough and the tree is full of big black birds along with the big white ones. Finally, by mid April the husks start opening. We lay tarps under the tree and shake branches with a bamboo pole to get the nuts to drop.  Any that are not collected straight away are gone – brush turkeys, bush rats, even ducks love them.
Finally, by late April, we are harvesting pecans, after all this more than I can be bothered cracking.  I've spent most of last weekend cracking pecans for TEDx , and there's a big basket waiting for me to get some enthusiasm for cracking again.  I'm thinking pesto and pilaff and fruit and nut bread and seedy biscuits and chocolate beetroot brownies and a spiced pecans recipe that I'll post if I get around to making it.  Anyone have any favourite pecan recipes?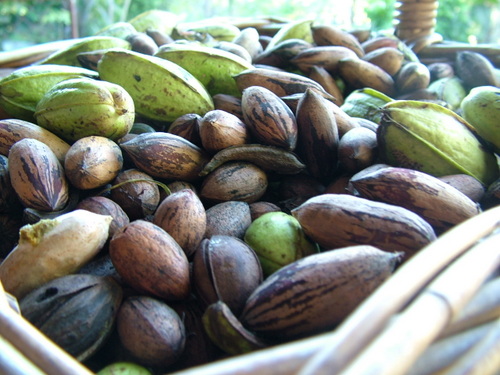 [relatedPosts]