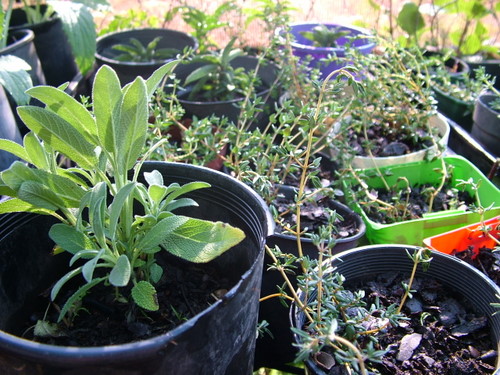 When I am away from my garden, it is the herbs I miss most.  If I only had pots to garden in, the top dozen plants on the priority list would all be herbs. There are just so many recipes that depend on fresh herbs to move food from fuel to experience, and it is so difficult and expensive to buy fresh herbs.  And dried herbs just don't do it in the same way.
And it is the perennial herbs that give me the biggest return on gardening effort. I don't grow a huge range.  There have been times in my life when I've got really excited about them, dropped big hints to get herb books for birthday presents, researched medicinal and culinary uses, sought out seeds and cuttings.  But many just didn't get used and gradually the range has reduced to the ones I use regularly and would be lost without.
My cannot-live-without perennial herbs are oregano, marjoram, thyme, lemon thyme, sage, rosemary, bay, lemon grass, vietnamese mint, regular mint, greek basil, horseradish, nasturtiums, yarrow and comfrey, the last two used mainly in compost.  Add to them a few annuals – parsley, coriander, culantro, dill, borage, basil, lemon basil, lime basil, Thai basil, chives – and I have my minimum garden.
Early spring is a good time to plant most of the perennials, from seed or cutting.  So today, besides the usual round of beetroot, parsnips, carrots and spring onions, I'm planting out these baby thyme and sage plants that have already spent too long in the shadehouse.  I'm dividing up and refreshing my lemon grass – good time to do it because the wallaby that got in last week radically pruned it for me. And I'll move some oregano from the spot where it's getting old and slow to a new, well composted, sunny spot.
And then maybe I'll go visiting with secateurs.
[relatedPosts]