It's not a very interesting photo till you know what it is.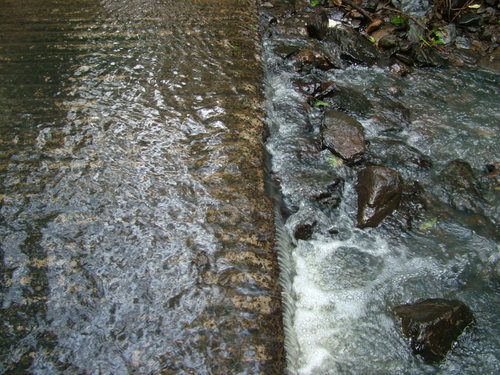 This is the culvert crossing our creek after over a month now of pretty non-stop rain and several floods. The next crossing down is so brown that you cannot see the bottom and the river as it runs through town is the colour of cocoa.  But this one is clear.
Marine ecosystems are under such huge pressure that they are collapsing world wide.    Our children are unlikely to be able to go fishing and catch fish for dinner easily.  Our grandchildren may not be able to afford to eat fish at all.  A study published in the peer reviewed journal Science recently warned that "all commercial fish and species could collapse by 2048". That's within my lifetime.  My grandfather used to be able to take his fishing rod down to the ocean at his shack at Bribie, near Brisbane, and reliably come back with dinner.  My grandchildren may not ever get to experience catching and eating  fish at all. So so sad, so unforgivably irresponsible.
Climate change is the big threat, with its concurrent ocean acidification.  But pollution, habitat destruction, overfishing, and leaks from oil and gas extraction are up there too.  And one of the big sources of pollution is turbidity, which means brown water after rain, where soil has washed into it. It's caused by bad agricultural practices and by clearing along creeks and rivers.
From winter 2000 to winter 2003,  I spent most Saturdays and a fair few Tuesdays clearing lantana and planting a forest along several kilometers of degraded creek frontage.  Already, a decade on, I can see the effect in a creek that runs clear even after flooding rain. Landcare work can seem like a drop in the ocean. It can seem so long term and so little that you think, why should I bother, unless everybody does it makes no difference.  Like much of what we consider doing for the sake of the environment.
But for me, every time I cross that creek, I feel happy and hopeful and capable of making a difference.  And very proud of us – Rod and Franky and Wally and John and Alex and Casey who stuck it out for the whole three years and all the others who worked on the project from time to time.  I hope your grandchildren get to eat fish.