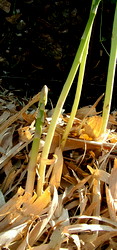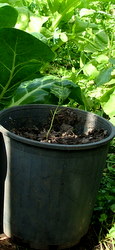 My asparagus is sprouting, so I think it's telling me that it is time to plant out the baby seedlings I have in the shadehouse.  Last year the wallabies really devastated my asparagus and I lost heaps of plants, so this year I am replanting a complete new bed to make up for them. I like having lots, enough for eating and gifting.  It's such a gourmet vegetable, you feel really rich with lots!
These babies won't bear harvestable shoots for two or three years.  However provided I can keep the wallabies away, they should then bear for twenty years or more.  I could shorten the wait by buying two year old crowns, but did I say I want lots?
Asparagus comes in male and female, and the standard wisdom is to cull the female plants as the spears are skinnier.  Luckily I left some females in, so last autumn  I was able to pick the little red berries with seeds and propagate  a tray full.
I transplanted the babies into a mix of creek sand and compost and they spent the winter in the shadehouse, being fed with seaweed brew for the last month or so.
I shall plant them out at about 50 cm spacing into a bed that has been well composted and mulched.  Since they will be there for a long time, it is worth preparing well.  The spot I have for them is on the north-east, downhill side of an annual vegetable bed.  I figure that they will capture any runoff water and nutrients.  The mature ferns in summer grow a metre or more tall,  but because they die back completely over winter, they won't shade the bed during the part of the year it needs full sun.
In late autumn, asparagus dies back completely.  I top dress with compost and mulch the bed heavily with a light, high carbon mulch that won't heat up.  In spring, right about now, the shoots start to appear through the mulch. My well established plants will yield a spear or two every couple of days from now through November.  Then I shall stop harvesting and allow them to grow out to store enough food for next winter's dormancy.
I had planned, today, to put in another tray of carrots and spring onions, using my standard method. But I got a bit too vigorous pulling nettles along the fence, (making sure there were no more hole the wallabies could use to get to the asparagus).  And I ended up with a piece of wire through my thumb and a quick trip into the local hospital.  Kyogle Hospital is wonderful!  But the carrots will have to wait.