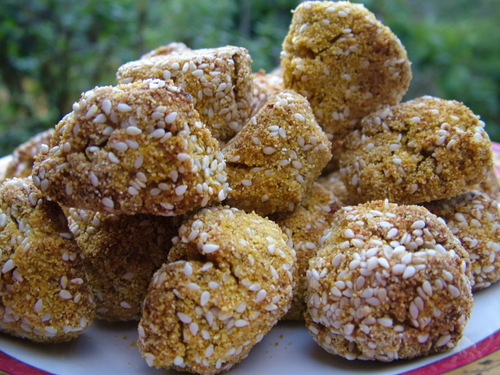 These are good.  Really good.  Better than they look.  They have the sweetness of pumpkin with a moist cake-y polenta centre.  They're good hot but specially good cold, which makes them ideal for lunches or for nibbles.  They're super fast and easy to put together, and these days we have the wood stove going so a hot oven just going to waste unless I find something to put in it.
Pumpkins are my glut crop at the moment.  They're not exactly a glut – my brush turkeys take care of that – but when you cut just one pumpkin, it becomes a glut.  There's never enough room in the fridge so it's a race to use all of it before it goes off.
The Recipe:
This is a bit of a make it up as you go recipe.  The quantities aren't very exact, because it depends on what kind of pumpkin you are using, and how much of it.
You need an oiled baking tray of

pumpkin

, cut into bite sized pieces.

Over the top of the pumpkin, scatter a couple of 

good handfuls of

pecans

.  I can't see why it wouldn't work just as well with any other kind of nut, but pecans is what I usually have in glut at the same time as pumpkins, so I've always used pecans. 

Scatter a diced

onion

and a couple of cloves of roughly chopped

garlic

over too. 

 
Bake until the pumpkin is soft. In a medium-hot oven, this will only take 15 minutes or so.
Tip the lot into a food processor. Add
an

egg

,

a good pinch of

salt

,

and a couple of big dessertspoons of

polenta

.
 Pulse the mix.  You are aiming to chop rather than puree it, aiming for a texture like a stiffish cake mix. If your pumpkin is very dry, you will use less polenta, if it is moist you will use more.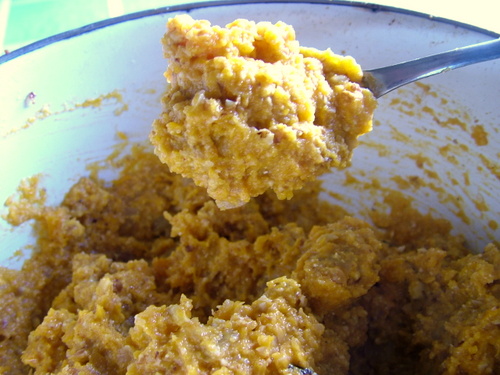 Mix polenta and sesame seeds 50-50 on a plate.
Drop dessertspoons full of the mixture onto the plate and roll them in in the polenta sesame mix to coat.  Make into nice balls a bit smaller than a golf ball, about two-bite size.  Place them on an oiled baking tray.
Bake for around 40 minutes in a medium oven, till lightly browned.
[relatedPosts]