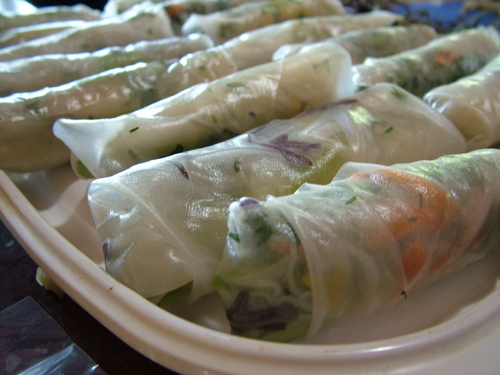 There's actually only a small window of the year when rice paper rolls are the perfect thing.  Avocados need to be in season, and coriander.  You need macadamias and limes for the dipping sauce.  Pickled radishes and turnips and ginger are wonderful in them.  And it needs to be warm enough for that cool, clean, crispness to be just what you feel like.
Rod and I made these ones to take to a trivia night fundraiser at the local high school.  We spent a lovely afternoon chopping and chatting, dipping and rolling.  They're the perfect social food.  Normally for home I prepare all the fillings and let people assemble their own. Lay all the fillings out on the table along with a pan of very warm water. Each person dips the rice paper in the water for a minute to soften,  chooses fillings, rolls it up tucking the sides in as  they go, dips and eats.  Have competitions and friendly banter about who is the neatest roller, and who chooses the unlikeliest filling combination, and whose fillings all fall out into the dipping sauce.
The fillings for these ones included julienned snow peas, carrots and spring onions,  mizuna, avocado, vermicelli, bean sprouts, lots of coriander and mint, and pickled ginger, daikon and turnip.   The dipping sauce was:
roasted macadamias crushed with a mortar and pestle,
equal quantities of lime juice, fish sauce, and sugar
a touch of garlic and chili
a bit of water to mellow it out
All just shaken together in a jar and served in little bowls for people to dip.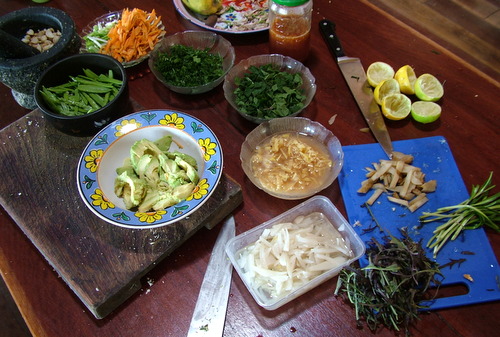 [relatedPosts]