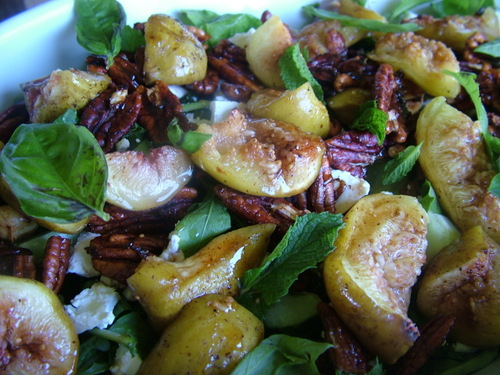 The riff of sweet, caramelised figs, salty white cheese, peppery leaves, and nut crunch is a classic one.  And like most classics, for very good reason. This salad was so good it's been repeated regularly this year since the figs started coming on.  It's a starring role salad – a dinner party first course, or a totally indulgent lunch, or a plate to take to a party.  If you are in Australia, figs are now in season, and only for a little while.
The Recipe:
Turn the oven on to medium hot to heat up.
Quarter the figs, spread them out on a baking tray and drizzle them with equal quantities of balsamic vinegar and honey.  I used a tablespoon of each with six large figs cut into quarters for this platter salad I took to a party.
For the pecans, in a small saucepan, melt together a teaspoon of honey, a teaspoon of butter, juice of half an orange, a scant teaspoon of garam masala, a pinch of salt, and a pinch of chili powder. Toss the pecans in this mix and spread them out on another baking tray. (I thought about using macadamias first, but the first of ours are only just coming on now, and I still have some of last year's pecans needing using.)
Put both trays into a medium hot oven and roast for about 20 minutes until the figs are soft and caramelised and the pecans are roasted and their marinade reduced to just a coating.
You should be left in the  fig pan with a couple of tablespoons of juice.  If it is already reduced to a syrup, then you can just cool the lot.  If it is not syrupy yet, pour it into a small saucepan and reduce. If it has turned to sticky toffee, take the figs out and add a little water to dissolve.
Arrange a bed of rocket on a serving tray. Cover with a good sprinkle of cucumber quarters, then a layer of crumbled feta, then the figs and pecans, then a light sprinkle of mint and/or basil leaves.
Drizzle the fig juice over and serve.