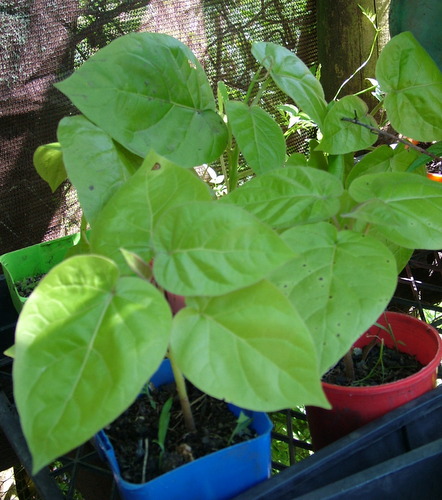 It's a nice planting day today and I'm sort of ready – which is just as well because I have to go out and I'll only get an hour or so in the garden today.  I have advanced seedlings of carrots ready to go out, and places to put them, and seed raising mix for another batch of seed using my standard method for carrots.   And the same for beetroot and parsnips. We eat a fair bit of beetroot and I plant it every month, but this is the first round of parsnips for a while.  Parsnips are hard enough to germinate without adding the frizzle weather of midsummer to the challenge.  I have some new seed – the seed doesn't stay viable long – and these ones will reach maturity just as it starts to get cold enough to make them sweet, so I didn't want to miss the opportunity.
I could just about plant potatoes this time, but there isn't really room for them, and it is a little early, and I haven't got around to getting seed spuds anyway  – all good excuses for waiting till next month.
I've planted the first round of onion seed for the year in seed raising mix in the shadehouse. Just a very few this time, as insurance, because it's a bit early for them too. I'm planting Hunter River Brown and Red Creole this year.  I need short day varieties this far north (northern NSW), so the choice is a bit more limited than further south where the summer days are longer.  I have some bulbs of potato onions ordered by mail from Greenharvest. I've never had success with them – day length again, and also the wetness of our autumns up here.  But I love the idea of perennial onions, so I keep trying!
I also have a dozen tamarillo trees in the shadehouse ready to plant out. Tamarillos are a subtropical, short-lived perennial, small tree.  They bear very prolifically, acid-sweet fruit that is to my mind more like a passionfruit than a tomato in flavour, but like a guava in texture.  They are my daughter's very favourite fruit but I like them best cooked into sauces and chutneys.  I've just made a batch of tamarillo chili sauce that is gorgeous.
If I get a chance I'll visit the local nursery on my way home for a few more fruit trees too.  This is the perfect time of year here to plant them. We are likely to get enough rain to establish them over the next few months, and there's time before it gets too cold.  If I plant trees in spring up here, it's a major job to keep them watered and the summer heat just knocks them over before they get established.
It's a lovely day for gardening. Just wish I had all day to do it!
[relatedPosts]