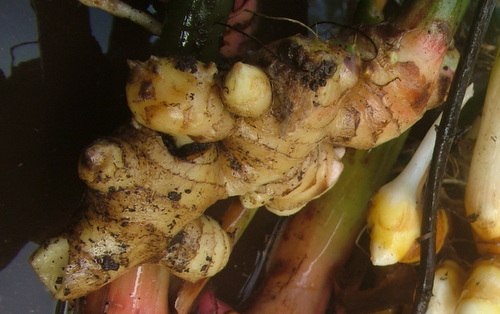 We had frost this week.  Two nights of it in a row.  Not up to the height of my garden, which is 300 metres above sea level, but all along the creek flats. But the week before we had one day over 28°C and another couple in the high 20's.
Today is clear and warm and sunny, and I'm contemplating whether it is late enough yet to divide up the ginger.  And that, along with a comment from Jude last week about getting the timing right for planting has had me mulling on belonging to a place.
I'm at the south end of the range for ginger.  It is always late to sprout here.  Even if we have a warm start to spring it waits for the reliable heat and rain of summer. I can get good crops – it's my glut crop for this week – but only by knowing it well.
Spring, though it is often scarily warm early is also our dry and windy season.   Fire is more of a danger in spring here than in the height of summer, usually (except on the rare occasions when we get one of those freaky sets of summer weather with north westerly winds and no storm rain).  Spring is the season of watching the water supply anxiously, of taking big gambles on how much to water the garden and the fruit trees, of keeping the fire tanker trailer full and the yellow overalls ready, of lying awake at night listening to the wind tearing branches off trees.
So I don't blame the ginger for weighing up its options and deciding that the best bet is to keep it's powder dry and wait for warm rain.
It's not just living somewhere for a long time that allows you to build up this kind of nuanced knowing a place. Past time is one of the factors. Like a long marriage, it allows you to build up a huge body of intimate knowledge.  Present time is also a factor.   I notice it when I work indoors a lot I get really disconnected and lose that intimacy, and get clumsy with making good guesses. But a more important one is attention, which comes from a sense of belonging, which comes from a sense of a lot of future time.
We lose a lot of that in our western culture, that long, intimate, responsible relationship with a place.  Aboriginal people knew it and mourn it like the loss of a loved one, or a whole family of loved ones.  Rural people know it and can't comprehend how anyone can think CSG fracking is anything but, well, fracking.  I get really angry with people who disrespect it, who think they can make good judgements without it. It is a kind of relationship that we don't even have good language to describe.
I think this is one of the huge risks in climate change, that urban people completely don't get. Farmers gamble, constantly. They make educated, considered, intuitive guesses  based on gut feeling, the tiny signals that intimacy and experience allow. Those guesses are sometimes right, sometimes wrong.  Bad guessers go broke or resort to mining the land.  Good ones get it right more often than wrong and succeed. Climate change is making all that experience and intimate knowledge of a place, built up over generations, unreliable. If people think energy costs are trouble for cost of living, they ain't seen nothing yet. As farmers get the guesswork wrong more often, the cost of food, and food scarcity, will escalate at a rate I am scared to guess.
So I'm going to hold off dividing up the ginger.  Today I'm planting out potatoes – Dutch Creams this time, and carrots, spring onions, and beetroot in the bed I've just moved the chooks off.    I shall use my usual method for the spuds, planting them straight out into the bed.  By the time they get up we will be past the danger of a late frost. I'll plant a new round of carrots, spring onions, and beetroot in the shadehouse, using my usual method for the carrots and spring onions and my usual method for the beets, and selecting varieties with the best chance of surviving hot dry windy conditions and lengthening days urging them to bolt.  I shall put the sprinkler on for a few hours in each bed over the next few days, and move a trickling hose around the fruit trees, betting on a nicer than usual spring – less hot and windy with enough rain to refill the dam and fend off the worst of the fire season.  But my guesswork is not a lot of use to you.
[relatedPosts]