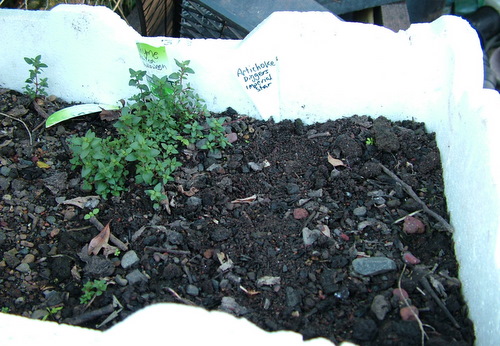 Roots and perennials planting days yesterday and today, but they're town work days for me, so most of  it will have to wait for the weekend.  This weekend I'll put in another round of seed and plant out another round of carrots and beetroots, and pot up this thyme and also some sage I've propagated from seed.
So all I've really done this break is to stick some artichoke seeds in a seed raising box this morning.  Theoretically I should wait for Spring to plant them, but the days are now lengthening and though it is still quite cold, they don't need warm soil to germinate and they won't freeze in the shadehouse.
Artichokes are easiest propagated from pups, or suckers taken from an adult plant in autumn after the plant has stopped bearing.  If you are careful, you can drive a shovel down between the parent and the sucker and separate a sucker with roots.  You can plant it out straight away, or pot it up till spring then plant it out. The baby will be a clone, genetically identical to the parent.
But I wanted to try a new variety.  Imperial Star is a variety bred for frost-free situations, and supposed to bear much earlier.  I like the idea of having artichoke hearts for winter dishes, and I'm a sucker for seed catalogues!
I soaked the seed overnight and sowed it into a mixture of creek sand and old compost in a seed raising box.  I shall pot the seedlings up and raise them in the shadehouse till they are advanced seedlings, then plant them out into the garden. They are actually giant thistles and have the same deep tap root, so they can cope with hot dry conditions quite well but not water logging – they like a well drained, sunny spot where the root won't rot.   They're big plants, needing a bit of space, but they're quite decorative and one of the few things I can plant outside my fortress fencing since they have their own thistle-y defenses against possums, birds, bandicoots, wallabies, turkeys and everything else that wants to share my garden.
Since artichokes are semi-perennial, lasting a few years, it's worth spending a bit of effort to plant them in a nice spot, so I'll give each seedling a good half bucket of compost at planting out. But for now, lets just see if I get some up!
[relatedPosts]