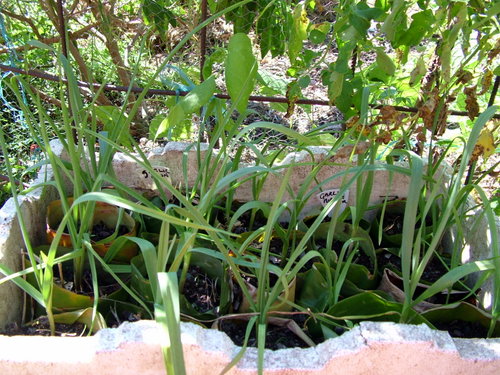 Remember this garlic? Planted into potting mix a month ago.  Look at it now. I think every single clove sprouted, and some of them now have leaves 30 cm tall.  I have three boxes like this for planting out today, and I'll put in another three boxes of cloves for planting out next month.  Not that I need successive crops with garlic – they all get harvested at more or less the same time –  but rather to give me a bit of insurance against weather or in case a wallaby gets in to my fencing.  I'm planting them out in three different beds for the same reason.
Today I'll also plant out my onions – Hunter River Browns and Lockyer Gold – varieties carefully chosen to suit the relatively long winter day length this far north.  And I'll put in another box of seedlings.  Like the garlic, they'll all get harvested at more or less the same time.  Garlic and onions are so picky about day length that I can't stagger them much.
I'll plant out carrots and put in another box  for successive crops, using my standard method.  I have a bit more choice in varieties this time of year, but I'm liking Nantes so much and they're doing so well for me, I think I'll just stick with them. I shall put in a box of parsnips using the same method. Parsnips planted now will be ready for harvest in late winter, and they'll be the best ones of the year.
I'll plant a few beetroot seeds in a seed raising box, select half a dozen of the strongest of the ones germinated last month to pot on, and plant out the ones germinated the month before.  That way, I have about 25 beets on the go, but only about half of them taking up room in the garden at any one time, and about half a dozen ready for harvesting at any one time.
It's perfect garden weather here today, and not sensible to be inside on a computer!
[relatedPosts]