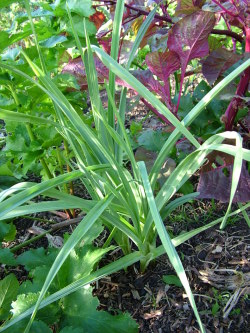 I've noticed that a couple of corms of garlic that hid in my garden and escaped harvesting have sent up green shoots. So I guess they are telling me it's time to plant garlic! The traditional wisdom is that garlic is planted on the winter solstice but that has never worked for me even before climate change kicked in.  I'm going to trust the self-sown garlic – plants generally know best.
Garlic is one of the few things I plant directly, one clove at a time, pointy side up, using the standard system of planting things as deep as their own diameter.  I'll transplant these to separate them and give each one a bit more room.  Each clove will yield a corm.  Keep them well away from peas, beans, broad beans – anything that depends on its nitrogen fixing bacterial partners, because garlic is quite strongly anti-bacterial.  Nothing else to it.
Besides garlic, I'm also planting carrot, parsnip, beetroot, and onion seed this planting break.