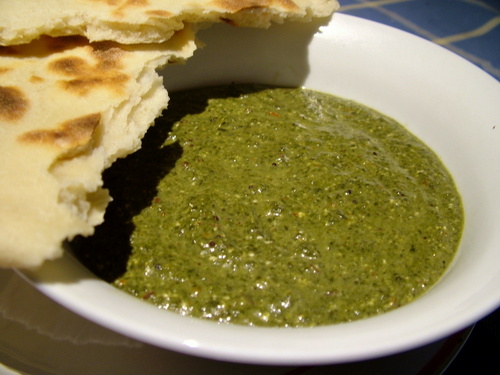 Saag just isn't photogenic. Unfortunately, because it is very delicious, and I have bucketloads of silverbeet (chard if you are not in Australia)  in the garden at the moment and saag is one of the very best recipes I know to use bucketloads of it (and still want to come back for more tomorrow).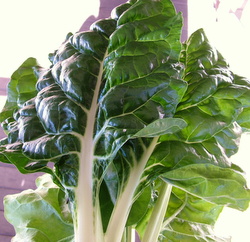 Saag is a northern Indian spiced puree of spinach (or silver beet).  This far north I never have spinach in those kind of quantities, but I do have silver beet – it's a garden no-fail this time of year, and it's a superfood for a whole heap of reasons.  It has lots of  antioxidant beta carotene, good for protecting against aging inside and out due to cell damage.  And it's  a  good source of folic acid, which is good for the immune and nervous systems and with the number of colds and flu's going round right now, that's a good thing. And it has heaps of calcium and magnesium and vitamin K which are all important for bones.
The Recipe:
Serves two generously.
Into a cup, put:
1 teaspoon cumin seeds
1 teaspoon black mustard seeds
1 teaspoon coriander seeds
1 teaspoon fennel or dill seeds
the seeds from 5 cardamom pods
(It's better if you use whole seeds for this)
Chop and have ready to add:
2 finely diced chilis (more or less, depending on how strong your chilis are and how spicy you like your food.  Saag is best mildly spiced though).
2 cloves of garlic
a heaped teaspoon of grated or finely diced fresh ginger
a heaped teaspoon of grated or finely diced fresh turmeric (or substitute a scant teaspoon of turmeric powder)
Heat quite a decent swig of oil in a big pot or pressure cooker.  Traditionally it would have been ghee, but I don't like to use quite that much butter.  Olive oil is a bit strong flavoured though. I use macadamia oil, but any sweet or mild flavoured oil would work.
Add the seeds and cook, stirring till they start to pop.  (Don't let them burn). Then add the chili/ginger/turmeric/garlic mix. Cook stirring for another minute or two, then add
a cup of vegetable stock, with some salt in it
the shredded leaves from a BIG bunch of silverbeet.  Just the leaf stripped from the stem, chopped reasonably fine.  Lots – at least two packed cupfuls.  I often add a few mustard leaves too.
3 bay leaves
3 cm of cinnamon stick
Pressure cook for 5 minutes, or simmer for 15, then reduce until there is just a little bit of liquid left. Take it off the heat and blend in 3 or 4 heaped dessertspoons of cottage cheese (low fat works fine).  I use a stick blender for this, but you could use a blender, food processor, or even a mouli.
Serve with naan bread for scooping.
Do you have a favourite Tuesday Night Vego Challenge recipe for this time of year?  Links are welcome in the comments.
[relatedPosts]