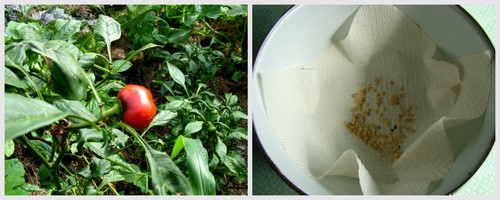 Isn't sex an amazing thing?  That chromosomes split and crossover to create a totally new and unique being? Not once, but every single time, so that every single life is totally unique. Every single life on this whole planet not just now but that has ever existed. That is just so breathtakingly ambitious! And that, at the same time, out of all those googols of pilots, evolution has such a nuanced and sophisticated mechanism for selecting not just the ones worth repeating the split and crossover, trying more combinations based on them, but also the ones worth a long shot.
When I stop waxing lyrical though, the practical result of all this is that every single seedling is different, as different as brothers and sisters (or more likely second cousins once removed).  As different as two puppies from the same litter, even though humans have been selectively breeding dogs about as long as most crops.
Which means that, when I find a good variety, that works well in my microclimate and is resilient in the context of the little ecosystem that is my garden, I try very hard to remember to save seed.  Not always successfully. Remember this post? It's nearly pea planting time again, and I still haven't found the climbing, powdery mildew resistant variety of snow pea I lost year before last.  I'm still kicking myself.
These capsicums have done so well.  They are thick walled and sweet like the familiar California Wonder capsicums in the supermarket, but they are much squatter in shape.  The bush is slow to grow and it doesn't bear huge quantities, but it bears over a long period, and the capsicums are resistant to the fruit fly that bugs us in summer.
Capsicums are "perfect flowers" – which just means the flowers have both male and the female parts, so it is most likely that it has fertilised itself.  Bees will cross pollinate them though, and I have several varieties of Capsicum annuum species in the garden including chilis and banana peppers, so there is a bit of potential for surprises in the next generation.  I've tried to minimise it a little by saving seed from several individual fruits from several plants, and by keeping only this variety in this bed, and several of them, but you really need to keep hundreds of metres distance between varieties to ensure purity.  But since I'm not selling these, just saving them for myself and to give away (as insurance against losing the variety), and since I'm not too averse to surprises (sometimes they are nice ones), I'm happy to take the risk.
I've just simply washed the seed to remove any flesh and dried it in the shade on my verandah till the seed is crisp-dry, then put it in a recycled paper envelope in my seed tin, labelled with the variety and the date.
The reduced cost of buying seed is a minor benefit.  The major benefit is that I have a better chance of getting some of those really nice chromosomes again next year.
[relatedPosts]