This year's soap is in the moulds after a lovely day of soap making with Noelle and Helen and Camilla and Sue and Roz. It should be ready to cut into bars by tomorrow, then it needs to cure for 6 weeks or more to be ready to use.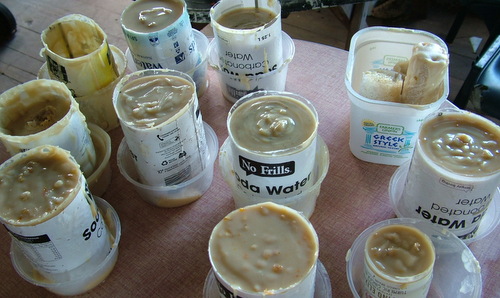 I make soap every year around this time so it is cured in time for Christmas.  It makes a gorgeous present – just enough luxury to be special, just enough everyday usefulness to be used, and no tacky consumerism. And getting it all done this early in a lovely social morning is shopping heaven.
You need a nice open airy place, with a stove or barbeque to melt the oils, and you need to take care – caustic can cause nasty burns if it gets on bare skin.  But with those precautions, it's not hard. The recipe is in my first soap post here.
First step:  Dissolve the caustic in water, always adding the caustic to the water and not vice versa.  This is the most dangerous bit.  Sue is wearing glasses, and she and Roz are out in the open so as not to breathe fumes.  It instantly gets boiling hot, so we had a test first to make sure the plastic bucket would stand it.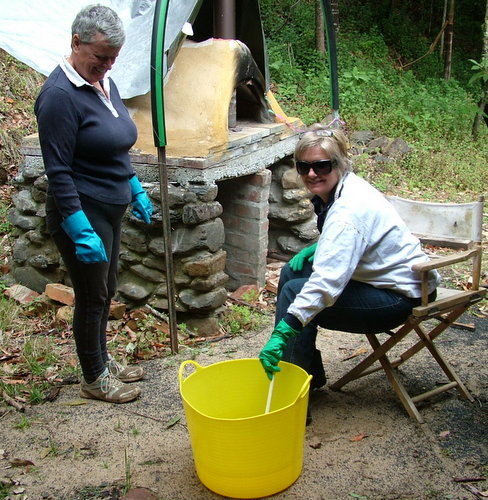 Next step is melting the solid oils and mixing with the liquid oils. By doing it together we can buy the oils in bulk which makes it much cheaper – still not cheap but cheaper.  For $55, I will get about 45 large bars, enough for us for the year and Christmas presents for all those people I want to thank but I don't want to feel like they have to gift-give in return.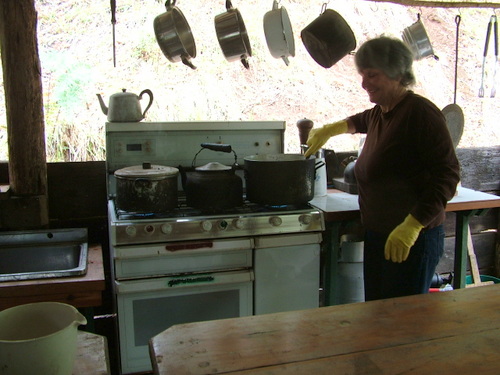 Then we all have a cuppa and wait for the oil and the caustic to both cool down to between 35 and 37 degrees Celsius. We have the big sink at the community centre that you can see at the left, so we put the bucket of caustic in a sink full of cold water to speed it up.
When they are both cool enough, we pour the caustic into the oil in a thin steady stream, stirring all the while.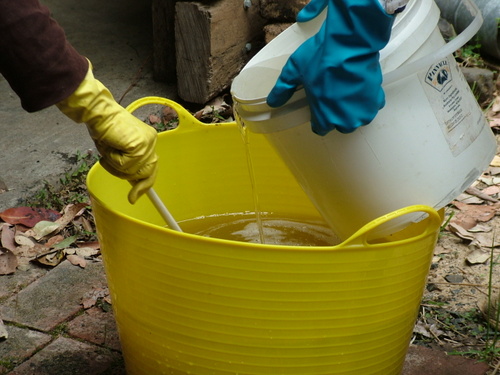 Then it needs to be stirred for about an hour until it is like custard.  This is much more fun taken in turns and accompanied by good conversation!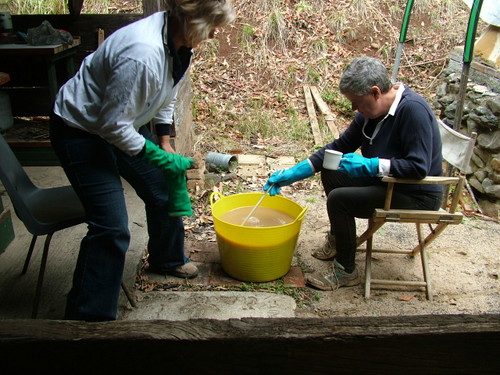 Then lunch together, giving the mix a stir every so often.  Then we divide it up and take a bucket full of soap at custard stage home to mould up.  It needs to be stirred every so often for another few hours, exactly how long depending on the temperature and humidity.  This lot went off quite quickly, turning into thick, just pourable custard.  At this stage we all mix in our own additives.  I made a third of mine with rolled oats and grated lemon rind, a third with a marshmallow, comfrey, and calendula mix, and a third with luffa embedded in them. I use cut down plastic drink bottles, with the bottoms sealed with packing tape, as moulds.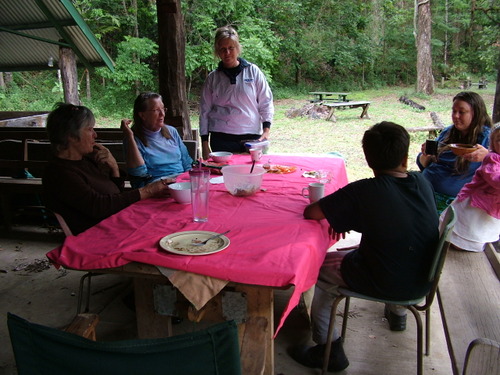 Tomorrow, when it is at a cheese-like texture,  I shall cut out the packing tape and push the cylinder of soap out of the mould and slice into bars with my bread knife.  I've learned that if I leave it too long it gets too hard and difficult to slice neatly. Then it will sit in a box in my laundry cupboard till Christmas to cure.