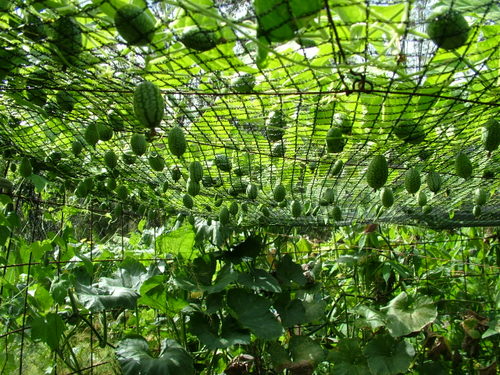 There's a fine line between pleasure and pain – and cucamelons, I've decided you are the wrong side of it. This photo was last year.  This year I didn't plant any, and weeded out most of those that came up on their own.  I let one go over the bed the chooks were in, thinking they might keep it under control, but this week I decided they're too risky and the whole lot came out.
Cucamelons (or mouse melons – Melothria scabra) were all the rage there for a year or two.  For those who missed it, they're little, melon shaped cucumbers.  Very cute.  And very, very prolific.
Sadly though to my taste they aren't a keeper.  They're not bad, a slightly lemony cucumber flavour, but the flesh is like the seedy part of a cucumber – rather watery and the skin is the only bit that makes them crunchy.  I made several salads out of them but while I had Suyo Long cucumbers, or Richmond Valley Whites, or Continentals, there was no way I was going to use cucamelons.  I pickled a batch, thinking they might go well pickled on a cheese platter but they ended up soft and sour – not nice.
Permaculturists, and gardeners in general, have been guilty of evangelising quite a few plants that turned out to be invasive pests.  There's a very fine line between the permaculture ideal of a plant that is so hardy, it grows, survives, and self seeds and needs little management, and the permaculture nightmare of a plant that is so hardy, it grows, survives, and self seeds and can't be managed. How do you select plants that fall on the right side of the line?
Australian bush food is wonderful – we grow finger limes and macadamias and Davidson plums and Burdekin plums  and lemon myrtle and Bunyas – but it isn't going to happen that we live on bush food.  The long introduced European staples of peas and carrots are pretty safe from going invasive – they're a long way out of their comfort zone.  It's the others, the food plants adapted to  African desert countries or South East Asian tropical and sub-tropical countries that are both exciting and worrying. Olives are an invasive pest in the Adelaide hills. Taro (Colocasia esculenta) is regarded as an environmental weed in Queensland, New South Wales and south-western Western Australia. Passionfruit (Passiflora edulis) is regarded as an environmental weed in New South Wales and Queensland.  Queensland arrowroot (Canna indica) is an environmental weed in New South Wales and south-eastern Queensland. Coffee (Coffea arabica) is regarded as an environmental weed in south-eastern Queensland and northern Queensland.
Yet clearly, we aren't going to give up drinking coffee.
And if we are going to drink it, it is going to be grown somewhere, and I'm a firm firm believer that out of sight, out of mind isn't a solution.
The tests for me:
 It has to be really good to eat, so much so that it is going to be harvested.  So much so that I know that even if I were to be hit by a bus, someone would bother to come and harvest it (which is the case with olives or coffee or passionfruit around here).
The local wildlife has to not spread the seeds.  So either they love eating it so much that it doesn't get to seed (which is the case with Leucaena or Queensland arrowroot or Taro around here), or they don't like it at all.
I have to be able to grow it in a careful, close, watched way, well away from bushland, for a season or two to see what it does.
Sorry cucamelons.  You're not good enough for number one. I'm not at all sure about number two.  And I gave you a season and you blew it.