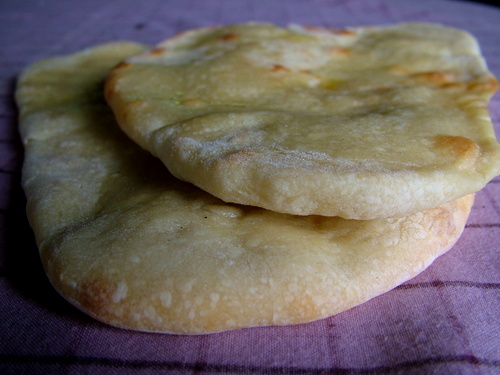 Sourdough naan are superfast and easy, except that, like all sourdoughs, you have to think ahead.  If I think to feed the culture the night before, and spend 5 minutes making the dough in the morning, I can make naan to go with dinner just by multitasking while dinner is cooking.  And fresh, hot, soft naan turn a curry or a stew into something special.
The Recipe:
Makes 10
Step One:
Put 1½ cups of fed sourdough starter in a bowl and leave, covered, on the benchtop overnight.
Step Two:
Then add:
2 big dessertspoons of low fat Greek yoghurt
2 dessertspoons of oil – I use macadamia oil or olive oil
1 beaten egg
2 cups of baker's flour. (I haven't tried wholemeal naan. I use the Lauke Wallaby brand baker's flour I can get from my local supermarket.)
Tip more baker's flour on the benchtop, and knead for just a few minutes to get a smooth, not sticky dough.
Put a swig of oil in a bowl, and swish the dough around in it to cover, and leave it to prove in a warmish spot for another 8 hours or so.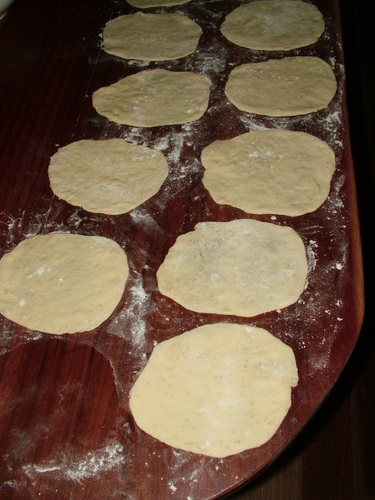 Step Three:
Flour the benchtop and knead the dough briefly, then divide up into 10 little balls.  Roll each of the balls out into an oblong pancake about 1 cm thick.  Cover with a cloth and leave to prove for another half to one hour.  If you have floured the benchtop well, they won't stick.
Cooking:
Heat a heavy frypan up till it is quite hot.  Put the naan in the dry pan and cook for just a couple of minutes on each side till it is puffed up and has golden brown spots where it has touched the pan. Wrap each one in a clean teatowel to keep warm as you make them. Perfect for soaking up curry or stew.
[relatedPosts]