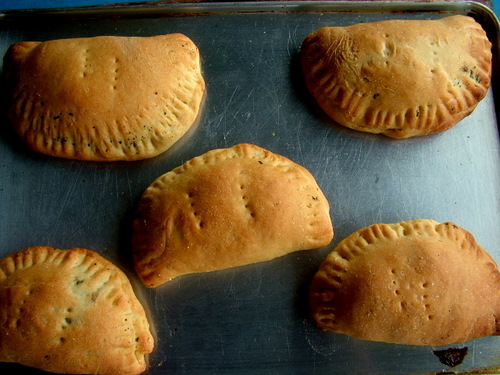 The kids are on school holidays, so there's no Muesli Bar Challenge baking this week.  So I thought I'd do some adult lunch box baking instead.  One of my favourite bought lunches is a spinach and feta pie – yummy but full of fake fats.  And I feel very silly buying it when I have so much silver beet in the garden at present.
This is a bread dough based pastry, which means that it is very low fat.  Filled with a mixture of silver beet or spinach and low fat feta cheese, it is about as healthy as you get in a pie.
The Recipe
This takes a while, but most of the time is waiting for the bread dough to rise.
The Dough
In a big mixing bowl, dissolve a good teaspoon of dry yeast in a cup of 'baby's bottle warm' water.  Add a dessertspoon of honey, cover the bowl, and leave it in a warm spot for 5 minutes.  It should froth, showing the yeast is alive.  If not, you have dud yeast and you can give up now.
If your yeast develops a bit of froth though, stir in a beaten egg, then mix in 2 cups of wholemeal plain flour and a teaspoon of salt. Flour your work surface well and knead the dough until it is smooth and springy.  Like all bread kneading, the more the merrier, but about 5 minutes is a good guide.
Put a little swig of olive oil in your bowl and return the dough to the bowl, swirling it around to coat.  Cover the bowl with a clean tea towel and leave it in a warm place for a couple of hours until it doubles in bulk.  (I find in this Spring weather, the dashboard of the car parked in the sun with the windows up makes a good warm spot).
The Filling
Strip the leaves from the stalks of a bunch of silver beet.  Blanch in boiling water for just a minute or two, drain well, then blend with 60 to 120 grams of low fat feta cheese (depending on how cheesy you like it).  I like to just pulse it briefly so there is still some texture.
Assembling
Turn your oven on to heat up.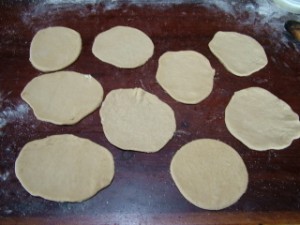 Flour your work surface, tip the dough out and knead it just for a minute to knock it down.  Divide it into 9 balls. Flatten the balls between the palms of your hands, then stretch the dough into flat circles about 10 cm across.
Put a heaped dessertspoon of filling on one side of the circle, fold the dough over, and press the edges together with a fork.  You can fill them quite full – unlike pastry dough, the bread dough will stretch so they won't tend to bust out as they cook.
Put your filled piroshki on an oiled tray and prick the top with a fork.  Leave them to rise for 5 minutes, then bake in a medium hot oven for around 20 to 30 minutes till golden.