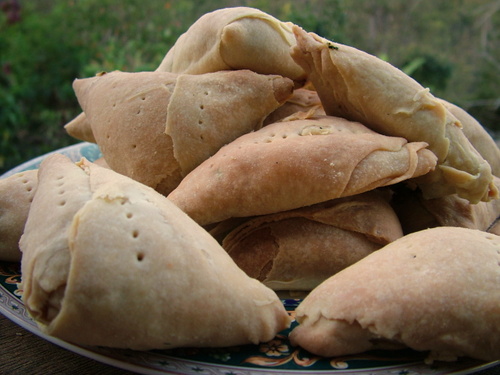 My glut crop this week is spinach. The warm weather, and its age – it's been bearing wonderfully for a few months now – are combining to make it think it is time to go to seed.  I'll let some go to seed to collect some – this variety has been really good this year.  But for most of it, it's time for the last spinach feast of the year.
Home-made phyllo is one of those glass-half-full, glass-half-empty things.  I could tell you that it's really easy and worth doing since it makes phyllo really cheap and, living half an hour out of town as I do, really conveniently available.  I could also tell you that it's not that easy – there's a definite knack to it – and it's near impossible to recreate the paper thin sheets of pastry that you buy, and the bought kind is just flour and water and salt so there's no nasty ingredients to worry about anyway.  And both would be true.
I do make phyllo, but mostly because, when I get a spinach and feta phyllo triangles idea like this morning, it's not worth a trip to town so it's either make my own or think of another idea.  And I get stuck on ideas like that. If I had a supermarket in walking distance…hmmm…that would make it an interesting decision.
The Recipe:
Makes 2 dozen triangles. Turn the oven on to heat up.  You want a medium hot oven.
The Pastry:
If you use bought filo, skip ahead to the filling.
Mix 3 cups of plain flour (I use baker's flour), a good pinch of salt, and ¾ cup liquid, half and half warm water and olive oil.
I use my food processor to blend the liquid into the flour to make a soft dough, but you could just as easily mix in a bowl.
Briefly knead the dough till it is smooth, then cover with a damp cloth and move on to making the filling.
The Filling
The filling works just as well with bought phyllo. This much spinach: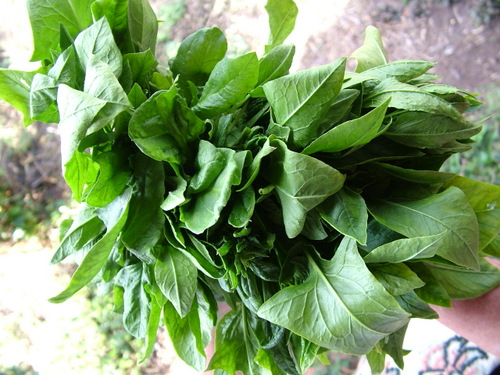 made two dozen triangles.
Blanch the spinach very briefly, just to wilt it, and drain well squeezing the excess water out.
Mix with:
a minced spring onion, greens and all
a small red onion, minced
150 grams of feta
a good grating of black pepper
I also add a few sprigs of fresh dill and parsley.
I use my food processor to make the filling too, using the large julienning blade.  I like it to have a bit of texture, minced rather than blended.
Assembling:
Break the dough into three balls.
Flour the work surface well and roll the first one out very thin, like making handmade pasta.  If you flip it regularly, you should be able to get it very thin without creasing.
The next bit is the knack.
You need to stretch the dough so it is as thin as you can get it.  Drape the dough over the backs of your hands and gently stretch, using the weight of the dough to do most of the work.  Then work around the edge, lifting it and letting it stretch.
Don't worry if it gets a few holes but stop before it gets too holey.
Brush the surface with olive oil, then fold in half.  If you haven't got too many holes, with luck you will have none now. Cut the dough into strips about 7 cm wide. Brush with olive oil again.
Put a bantam egg amount of filling at one end of each strip, and fold diagonally into triangles.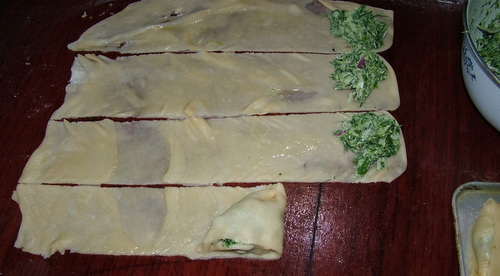 Place the filled triangles on an oiled baking tray and prick with a sharp fork. Brush with olive oil.
Repeat with the other two balls of dough.
Bake for around half an hour in a medium hot oven.
They're good hot or cold, as a party plate or snack for friends, or in lunch boxes.
[relatedPosts]