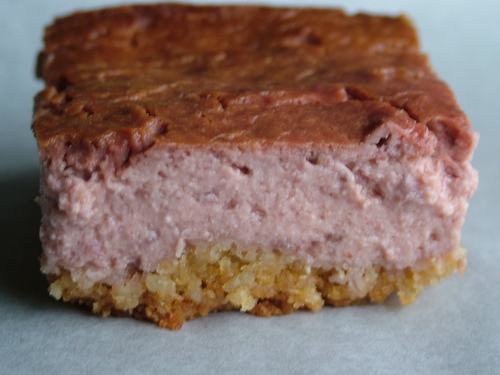 My strawberry patch is laden at the moment, but despite the netting many of the berries are pecked. It's pretty hard to beat a strawberry just as is, but they don't travel that well in a lunch box, and this recipe is a good way to use the less than perfect ones.   Strawberries are one of the best sources of folate which is important for cell division, so growing kids know what's good for them!
This recipe also has decent levels of protein and calcium in the cottage cheese and yoghurt, and of course eggs are a super-food rich in a whole range of nutrients.
If you liked the Passionfruit Cheesecake Slice back in Term One, this is the same concept.
This is the last Muesli Bar Challenge recipe for Term 3 –  recipes for lunch box baking based on  in-season fresh ingredients that are  healthy (low in sugar and saturated fat, low GI, wholegrain),  easy, and that my school age reviewers rate as preferable to the overpackaged junk food marketed as lunch box food.
The Recipe
For this recipe you need a shallow cake pan that is 21 cm diameter, or (preferably) a similar area in a square or rectangular shape, eg 18.5 cm square, or 14cm by 25 cm rectangle. Grease it with butter and line with greaseproof paper.
The base:
In the food processor, blend together:
60 gm of butter,
1 ½ dessertspoons of brown sugar,
½ cup wholemeal SR flour and
½ cup shredded coconut.
Press into the base of a pan so that it is about 1 cm thick.
The filling:
Rinse out the food processor, and blend together:
A scant ½ cup low fat cottage cheese or ricotta
A scant ½ cup low fat plain yoghurt
2  eggs
1 good dessertspoon cornflour (or cornstarch in US)
½ teaspoon vanilla essence
1½ dessertspoons brown sugar.
200 grams of ripe strawberries.
Pour the filling over the base and bake in a moderate over for about 45 minutes until set. It will firm up a little more as it cools. Cool before cutting into 8 squares.