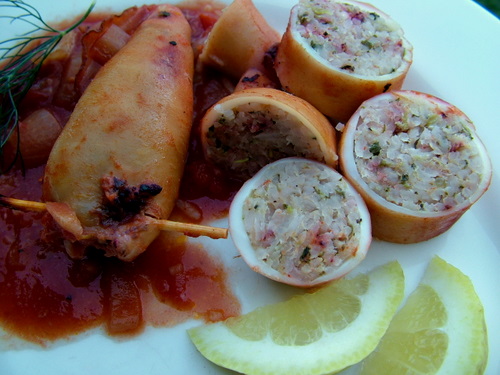 Australian Conservation Society conducted a sustainable seafood assessment project over the 2009-10 summer.  One of the five studies was the assessment of squid from the Hawkesbury River. My local river is the Richmond, not too much further north and fished in the same way, so I was really happy to see that squid was listed as sustainable.
In fact most sources list squid as sustainable – they breed fast, die young, and may even be over-filling their niche, sadly because their predators are being fished to extinction.  They're a good source of omega 3, better even than canned tuna and a lot more sustainable.
The Recipe:
This recipe used 8 medium-smallish whole squid – 500 grams all up with their heads and tentacles on. This amount fed four of us for a dinner party, with a couple of side salads. It would also make a fine entreè for eight.  Beware of using squid that are too small as they are hard to stuff without tearing.
First you need to clean and process the squid.  This is easier than it sounds in instructions!
You will find that if you pull the tentacles firmly, the head and tentacles will separate from the tube.
To process the head bit, cut below the eyes and discard the head and the guts.  Push the beak out from between the tentacles and discard it.  Put the tentacles aside for mincing.
To process the tube bit, being careful not to make holes in it, feel for and remove the quill (the see-through plastic-like feather inside the tube). Wash inside well to remove any remaining gut.
Stuffing:
Mince the tentacles in a food processor or by chopping finely.
Mix with
one-third of a cup uncooked rice
one onion finely diced
lots of garlic
a chili, finely diced
¼ cup chopped fresh herbs – I used oregano and lemon thyme
salt and pepper
a finger lime squeezed out, or a tablespoon of lemon or lime juice
Fill the tubes with the stuffing.  Don't overfill (the rice will expand in cooking), and close the tops with a skewer.
Sauce:
Saute a finely diced onion in a little olive oil.
Ad lots of finely chopped garlic, then:
a jar of tomato passata
1 cup of water
a good swig of white wine if you have it
juice of ½ a lemon
Cook the sauce down for a few minutes to soften the tomatoes.
Put a little olive oil in the bottom of a heavy pot with a  lid and arrange the filled tubes in it.  Pour over the sauce.  Bake, covered for 1 ½ hrs, or simmer over a very low heat on the stovetop, watching at the end that it doesn't boil dry. Add a little more water, or take the lid off to allow it to reduce, so that the sauce is nice and thick.
Slice the squid into decorative slices and serve on a bed of the sauce.
[relatedPosts]