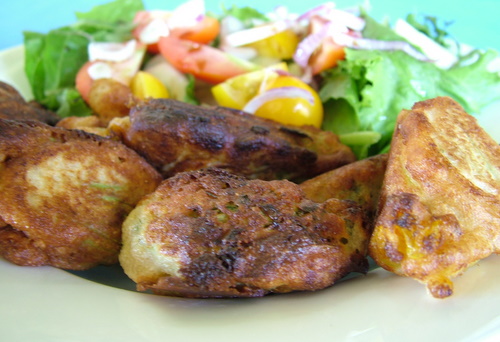 For years I have wondered whether zucchini flowers were the new mushroom, as in the famous 70s feminist adage 'Life is too short to stuff a mushroom'.  Now I know. The flowers themselves have very little taste; in fact there's very little of anything to them. But there's a textural phenomenon – a little bite of creamy herby filling barely warmed, inside a crispy tempura case. The zucchini flower is so barely there all it really does is separate them. But that's enough.
You need organic flowers.  It would be all too hard, for me anyhow, if I had to wash and then try to dry them.  They are a bit fiddly – it took me about half an hour to make a couple of dozen of them –  but if you have lots of male zucchini (or tromboncino, or pumpkin, or squash) flowers in the garden, they're a delicacy worth the fiddling.  I left a few males for the bees to do their thing, but there's lots of bees, and pretty soon there's going to be more zucchini than we know what to do with anyhow.
The Recipe:
This recipe is enough for around 24 small, male zucchini flowers – a good amount for four people with salad for lunch.  Three parts: the batter, the filling, and the cooking. You can make the batter and the filling in advance, but the cooking needs to be done right before eating.
The Batter:
Separate two eggs. (We use the yolks in the filling). Beat the egg whites with an egg beater until they form soft peaks.
Sift two-thirds of a cup of plain flour with a pinch of salt.  If you use wholemeal flour, discard the coarser bran you sift out.
Mix the sifted flour with two-thirds of a cup of milk to make a batter that's just a little bit runny.
Let it sit while you make the filling, then, just before you are ready to cook, fold the batter into the beaten egg whites.
The Filling:
I use the food processor to blend together
the two egg yolks
80 grams of low fat feta cheese
4 dessertspoons of low fat cottage cheese
1 spring onion
a cup (packed) of  herbs – I used lemon basil, mint and dill.
Assembling and Cooking
Strip any green sepels from the bottom of 24 zucchini, squash, pumpkin, or tromboncino flowers (or a mixture).  Don't wash them – you want them dry.
Put a teaspoon of filling inside each one and twist the tops to seal them.  Don't worry if they tear a little – just try to get all the filling covered with flower.  Fill them all before you start cooking because the next bit involves batter-y fingers.
Heat a heavy frypan with olive oil.  Dip each flower in the batter to cover it, then shallow fry in the hot oil, turning, till golden all over.  The oil should be hot enough that they fry quite quickly so don't crowd the pan too much.  Drain on absorbent paper till they are all done.  Sprinkle with salt and serve.
They make a great light lunch with salad or finger food with drinks.
[relatedPosts]