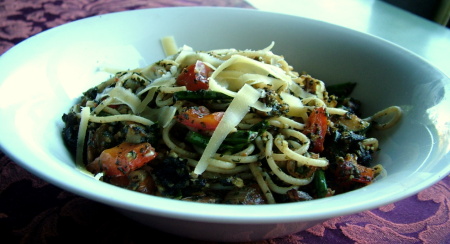 Into the blender, a good handful of basil leaves, a small chili, a clove of garlic, swig of good olive oil, pinch of salt. Add some fresh oregano if you have it, and perhaps a small handful of macadamias or cashews.
Into the pan, a chopped onion, capsicum, zucchini, snake beans, olives in a splash of olive oil and saute.
Into the pot, a relatively small amount of pasta (the vegetables are the stars of the dish – the pasta is just to carry them) in boiling water.
Toss the three parts together, grind over black pepper, and a grating of parmesan.
Nearly all out of the garden and Yum. And literally five minutes, no thinking required.