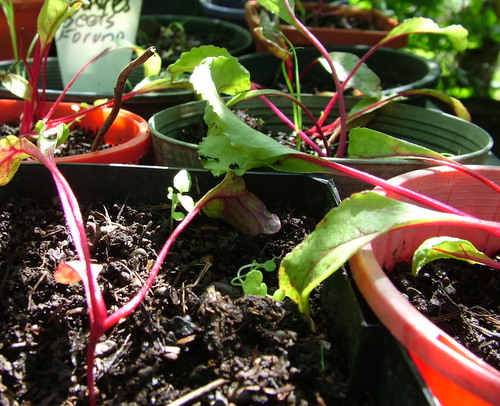 Roots and perennials planting days from today through to Tuesday afternoon. This is a good time of year for planting perennials in my part of the world. We are past the frizzle days of high summer, but still enough time left for things to establish before going into winter dormancy, and be really ready to take off in spring. We are also coming into what is traditionally our wet season, though in this La Ninã year, that really isn't a factor. The ground is so wet, it's even a disincentive.  Although, I guess,  if you're planting a tree that will be there for hundreds of years, it's not a bad thing to see the potential planting sites at their extremes.
I'm not really ready for this planting break – it's been so busy since Christmas – I've been chasing my tail. I haven't got seed potatoes, and I need to visit the local nursery for trees, and the very wet weather has not been kind to my carrot seedlings. Every time I look at the garden, I see so much wanting doing. But I've learned that if I just get out an do something, at least on the planting days, I can keep production happening even in the frantically busy start to the year, and avoid that spot in three months time when the chickens of missed plantings come home to roost.
So today I'll plant out these beetroot babies, and the survivors of the carrots – there's enough of them to bridge the gap. I'll get some spots ready for potatoes. We don't eat spuds every meal. Too many carbohydrates for people who don't do physical work all day, and who aren't (deliberately anyhow!) growing. But home grown new season fresh spuds are a gourmet delight, a treat, and for a month or so, a couple of times a year, they're worth the calories. The November harvest, of the spuds planted in August is the smaller harvest.  It heats up early in spring here, and the hot weather slows down their storage of carbohydrates. The second harvest, in May of spuds planted now is usually the bigger one. So tomorrow I'll get some seed spuds and if I have the spots all ready for them it will only take a few minutes to pop them in.
I'll put in another round of carrots and spring onions and beets, and also a dozen pots of parsnips using the same technique as the carrots.  I'm not in an ideal climate for parsnips – they like it cooler for longer than we get. But they are one of my very favourite vegetables so I persevere. They take around 5 months to be harvestable,  and the best ones are those harvested in winter, which means planting in summer. But they're trickier to germinate than carrots, specially in hot dry weather, and if it's too wet, they won't like it either. But if I'm lucky, I may get some ready for harvesting from midwinter on.
And I may just manage a visit to the local nursery on Tuesday on my way through town. We really don't need more fruit trees, but it's tempting.
[relatedPosts]