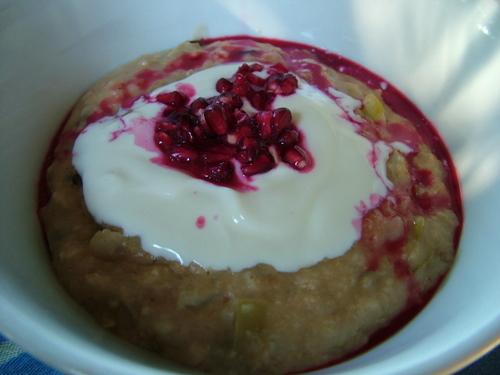 This is porridge to convert non-porridge eaters!
I'm not a huge porridge fan normally.  I know oats are really really good for you – full of fibre, lower bad cholesterol, lots of  B vitamins, good range of minerals, phytochemicals, etc etc.  And the kind of soluble fibre –  beta-glucan – slows both the rise in blood glucose and the fall. So it keeps you feeling not just full but also clear-headed and energetic and not craving a sugar hit at morning tea time.  But I find ordinary porridge just a bit too bland unless you add lots of sweetener which undoes the benefits of the low GI.
Apples are right in season now, just for another month or so, and they're hugely healthy too, with phytonutrients called polyphenols that protect against a range of diseases. I've topped it with pomegranate, just because I had a fresh picked one and it made it look beautiful! And home-made low fat yoghurt, yet another superfood.
It takes just 5 minutes, literally, to make in a pressure cooker, but only 10 minutes or so even in a pot.
(The Breakfast Cereal Challenge is my 2011 challenge – a year's worth of breakfast recipes that are quick and easy enough to be a real option for weekdays, and that are preferable, in nutrition, ethics, and taste,  to the overpackaged, overpriced, mostly empty packets of junk food marketed as "cereal" .)
The Recipe:
This recipe makes one adult or teenager sized serve. Multiply by as many people as you need.
It's the little detail bits that really make this.
Put ½ cup of plain rolled oats (not quick oats) in a bowl and pour over 1½ cups of boilng water. Let it soak for a minute
Dice 1 green apple into small but not tiny dice – about 12 mm.
Melt one teaspoon of butter and one teaspoon of honey in a pressure cooker.
Add the apple and a pinch of cinnamon, and fry for just a minute stirring just once, till the apple absorbs the butter and the bottom of the pot starts to brown. (You want caramelisation, not stewing).
Pour in the soaked oats, and add

little pinch of salt
little squeeze of lemon juice (a teaspoon or so)
a dessertspoon of sultanas (organic ones are worth it)
Put the lid on the pressure cooker, bring to pressure, and pressure cook for 2 minutes. Or, in a pot, simmer for 7 or 8 minutes.
Serve with a good dollop of plain yoghurt, and quarter of a pomegranate if you want to be fancy!
[relatedPosts]