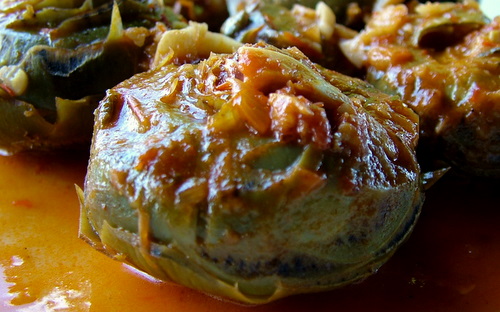 Cassandra's mum's braised artichokes actually, and they've converted me.  Artichokes aren't just party food!
Cassandra says it's a recipe she's loved since she was a child, so I had to try it.  I only have a couple of artichoke plants and I picked a dozen chokes for last week's birthday feast, but still there were another half a dozen ready to be cut.  Just shows how prolific they are.
The Recipe:
Cut the top leaves and pointy bits off as many artichokes as people (a bit like sharpening a pencil) cut the stem off so it has a flat bottom. Keep the very top of the stem, about 2 inches. Stand the artichokes up in a fairly tight fitting pot and place the stems all around.
Fill the pot to just under the top of the chokes with water. Put a dollop of tomato paste on each choke, crush garlic (lots) over the lot, add a slug of olive oil, salt and pepper. Simmer gently for at least an hour, lid on. Let the sauce reduce.
You eat them a leaf at a time. The are wonderful, even cold.
Heaven, peasant style
Cassandra Schultz
[relatedPosts]