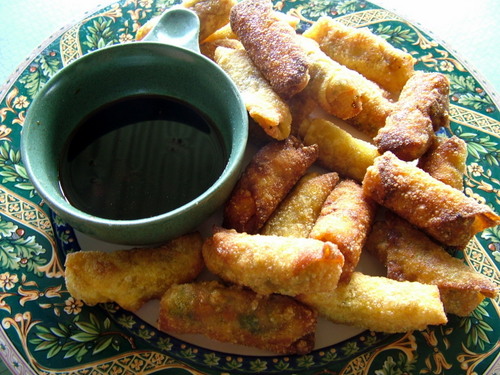 It being the party season and all.
Though I have to confess, this was our lunch yesterday.  In our defense, the filling meets healthy – and is possibly even a decent way to get lots of vegetables into a children's party plate.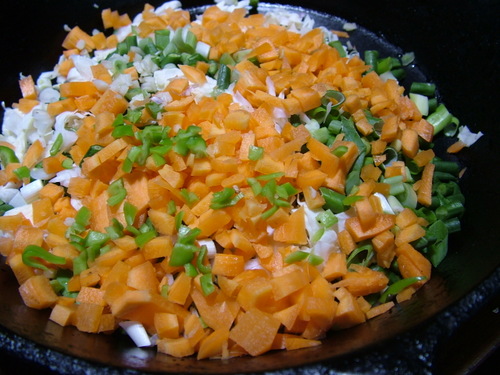 The Recipe:
This recipe fills two dozen wonton wrappers – what we get in a packet of wrappers from the supermarket.  Using bought ones makes the recipe really really fast and easy, but making your own isn't hard especially if you use a pasta machine, so I'll include the wrapper recipe too.
Part 1: Wonton Wrappers
You can buy wonton wrappers in the fridge at any supermarket these days, but if you make your own, you can use real egg.  In a food processor, blitz until the dough just comes together (just a few seconds)
½ cup of flour (I use the same Laucke Wallaby Unbleached Bakers Flour that I use for my sourdough, but any high gluten flour will work)
1  large egg
a couple of teaspoons of  any light flavoured oil
pinch salt
Flour the workbench well and knead very briefly, kneading in enough more flour to make a smooth, non-sticky, soft dough. Then leave it to rest for a few minutes while you make the filling.
Part 2: The Filling
For 24  ( a packet of skins) you need about two cups of filling when it is all raw.  The inspiration for these actually came from harvesting the very last of the season's cabbages out of the garden.  I used cabbage, snake beans, carrots, and spring onions, all finely chopped and shredded.  You can use a food processor to coarsely grate if you are in a real hurry.
Add a half thumb of ginger, finely grated, a couple of cloves of crushed garlic, a little chili to taste, a handful of herbs finely chopped (lemon basil, Thai basil, coriander, mint or a mixture) and a couple of teaspoons of light soy sauce.
Add a little oil to a wide pan or a wok, get it hot, and cook the filling, stirring, for just a couple of minutes.  You are trying more to dry it all than to cook it, and best to leave undercooked rather than over.
Mix a spoonful of cornflour (corn starch) with water (or ordinary plain flour if you don't have cornflour in the pantry).  Take the vegetables off the stove and add a little of it to the hot vegetable mix, just enough to make it all sticky.  Keep the rest for sealing the rolls.
Let the filling cool a little while you roll out the wrappers.
Part 3: Assembling and frying
If you are using home-made wrappers, use a pasta machine, or a rolling pin and a well floured benchtop, to roll out the dough till it is translucent thin.  You will be cutting it into 10cm squares, so aim for a 10 cm wide pasta strip.
Put a teaspoonful of filling  on each wrapper.  Roll diagonally, folding the corners in. Use a finger dipped in the flour and water mix on the last corner to seal.
Wipe out your wok or pan and heat up a couple of centimetres of frying oil until it is quite hot.  I usually use light olive oil for frying like this because it has mostly monounsaturated fats, it  has  a high smoke point and it's fairly neutral flavoured.
Fry in two or three batches so you don't overcrowd the pan, use tongs to turn them and fry for just a couple of minutes till they are brown and crispy.
You can keep them warm in an oven if you have to, but they are best eaten freshly cooked and hot with a soy and sweet chili dipping sauce.