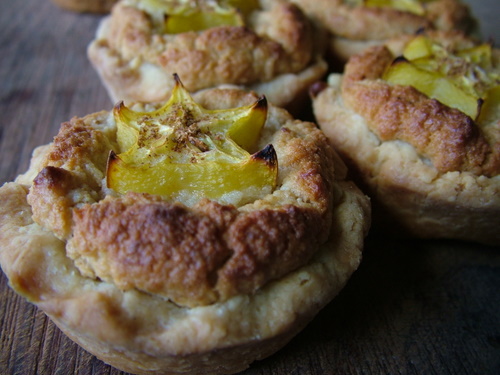 Carambolas (Star Fruit) don't appear in fruit shops much, and I wonder why?  They're a really nice fruit, sweet and juicy and full of vitamin C and potassium. If you live in an area where they will grow, they fruit prolifically in mid-winter and you are likely to have a glut of them.
If you don't live in a carambola growing region, you might like to adapt this recipe.  It works with any sweet, juicy fruit in season the same time as macas – which means late autumn to early spring. With the sweetness of the carambola and the oil in the nuts, these need very little sugar or butter so they're the kind of treat you can comfortably pack in a school lunch box or have in a mid-afternoon break from too-inactive work!
The Recipe:
Macadamia Meal
First crack your macadamias then use a food processor to blend them into a fairly fine meal. You need 60 grams, or half a cup of macadamia meal for the pastry and another 90 grams or three quarters of a cup for the filling.  Fresh nuts in shell are a different thing to the stale old nuts you find in packets in midsummer, so it is worth making your own.  This tool makes macadamia nuts a realistic everyday food.
Macadamia Shortcrust Pastry
This pastry is so easy, so delicious, and so healthy that you can eat pastry every day and not feel guilty!
In a food processor, blend together:
½ cup wholemeal plain flour
½ cup (60 gm) cup maca meal
1 egg yolk (keep the white for the filling)
1 dessertspoon butter
Add just enough water – a couple of dessertspoons full – to make a soft dough.
If your kitchen is warm, you may need to put the dough in the fridge for a few minutes (while you make the filling) so it will roll out easily.
Flour your bench top and roll the dough out. Cut out 8 saucer sized rounds and use them to line 8 holes in a muffin tin or 8  little tart tins.
Bake for around 15 minutes in a moderate oven until the pastry is firm but not yet browning.  (I don't bother with beans or rice or anything to blind bake – it stays pretty flat without it).
The Macadamia Carambola Frangipane
You don't need to wash the food processor.
Slice up 4 carambolas and reserve 8 nice big slices from the middle of the fruits for decorating.
Blend together into a paste:
90 grams carambolas (about 4 fruit after the middle slices have been reserved for decorating as above)
¾ cup (90 grams) maca meal
1 dessertspoon wholemeal plain flour
1 dessertspoon butter
1½ dessertspoons honey
½ teaspoon cardamom powder
Beat an egg white until peaks form, then gently fold in the macadamia-carambola paste.
Assembling and Baking
Spoon the filling into the shells.  The filling will puff up but it will rise up rather than out so you can fill quite full.  Decorate each tart with a slice of carambola.
Bake for around half an hour in a moderate oven until puffed up and golden.
[relatedPosts]