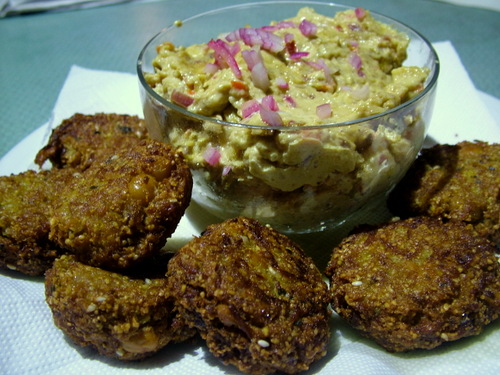 The low-light photo doesn't do it justice.  Usually I don't post something the first time I make it, but this will be the last time for the season too. I had to pick the last of the season's red eggplants – the chooks are now in the bed they were in, getting it ready for all the winter leafies – cauliflowers and celeriac and silver beet and cabbage –  to be planted out.  Enough pickles on the shelf, and no tahini in the pantry for baba ganoush, and a batch of chick peas cooked for felafel.
So I tried something different.  And now there are no more eggplants till next year to do it again, and I want to remember this for myself if no-one else.  So you will have to make do with the photo!
The Recipe:
The quantities are a little vague – I didn't think I was making a recipe to post so I didn't measure.  But it's the kind of recipe that you make to taste anyhow.
I started with about 3 cups of peeled and diced red eggplant. It would probably work just as well with black eggplant.
Massage through a handful of salt, and let sit for an hour or so, then rinse and squeeze the eggplant.
You end up with about 2 cups of washed and squeezed eggplant.
Fry or bake in a bit of olive oil, until the eggplant is very soft.  I fried this lot and it took about 15 minutes on a medium heat, stirring occasionally.
As it cooked, I added in a chili chopped fine, a couple of cloves of crushed garlic,  and a thumb of turmeric grated.
Scrape it all into a bowl and with a fork, mash and whip together with one small red onion, finely diced, juice of a lime (about 80 ml, or ¼ cup) and three big dessertspoons of plain Greek yoghurt.  The lime is the key.  You could probably substitute lemon but the lime juice gives it a really interesting distinctive flavour.  And limes are in season, and I have enough lime pickles on the shelf too!
Put in the fridge and allow to mature for a couple of hours if possible.
We ate it with felafel and tabouli and an impromptu dinner guest, and it has knocked baba ganoush off its spot as my favourite eggplant sauce or dip.