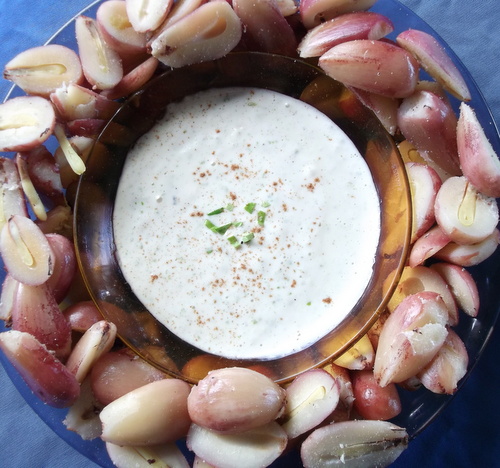 Bunya nuts are in season, and it is easy to see why aboriginal people arranged festivals around bunya season.  We stopped on the way to Brisbane to visit our son and pick up a native bee hive (more on that later) and picked up half a dozen cones that had dropped from a tree.  A feasting quantity.
Bunyas aren't a taste sensation but they're nice – a fairly mild, slightly sweet, chestnut or waxy potato flavour.  They dry out if they are roasted once they are shelled, and they don't absorb sauces or marinades very well – in curries and dishes like that, the bunyas are a bit of a filler. They make a good "potato salad", and they work really well in pesto, and I'm experimenting with grinding them the way aboriginal people used to and making cakes or patties.  But so far, my favourite use of them is just boiled and served with a dipping sauce.
I took these to a party last night.  I actually took a couple of dipping sauces. The mayo and harissa one was very good, and lemon butter with parsley is nice,  but this was the one that won the day.
The Recipe:
The Bunyas:
The method here is exactly the same as preparing them for pesto, or really anything else.  The big green cones fall apart as they ripen.  It's fairly easy to peel off the corm to release the nuts inside, that look like this: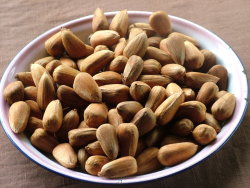 You can roast them at this stage, but I think they are better boiled or pressure cooked.  Boiling takes an hour or so, but pressure cooking is much faster.  I pressure cooked these for 20 minutes then cooled them, then cut them in halves and scooped out the nut.
There is a knack to doing this without cutting your fingers off.  Use a big heavy knife – the kind you'd use for a pumpkin.  Hold the nut with one hand, sitting it on its fat end, and get the blade of the knife dug in across the pointy end.  Shift your holding hand to the top of the knife and cut down.  Once you have the knack, it's easy and fast.
The Dipping Sauce:
The basis for the sauce is home made whole egg mayonnaise.
Two Minute Mayonnaise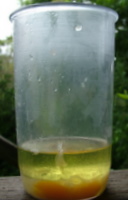 The super easy, super fast, super reliable way to make mayonnaise is with a stick blender. No dribbling the oil in, no splitting, no whisking.
There are two bits of chemistry that make it work.
You put all the ingredients in the blender jug and they separate.  The oil floats on top of everything else.
You put the stick blender in the bottom and start it, and it creates a little vortex, dragging the oil down at the perfect rate to emulsify it.
Works every time.
It's so easy, I like to make small amounts of fresh mayonnaise when I need it, rather than a big batch to keep in the fridge. It uses raw egg, so it's good to make with eggs from chooks you know are well fed and healthy.

Put in the blender jug:
1 whole egg
juice of ¼ lemon
good pinch of salt
100 ml of light olive oil (or other mild flavoured oil – not virgin olive oil – it makes bitter mayo).
Put the stick blender in and let it settle for a minute to separate into layers. Then, with the blender fully submerged, hit the button. Once it has started to emulsify, you can move the blender around. Don't think you can make less by skimping on the oil – it won't thicken. If it is thin, pour another swig of oil on top, and with the blender fully submerged, hit the button again.
Once the mayo is emulsified, add:
6 fresh kaffir lime leaves, roughly chopped
big marble of peeled ginger, roughly chopped
Blend until they are blended in.  Taste for enough salt.  Scrape into a dipping bowl, and, if you can, leave in the fridge for an hour or so for the flavours to blend in.
[relatedPosts]