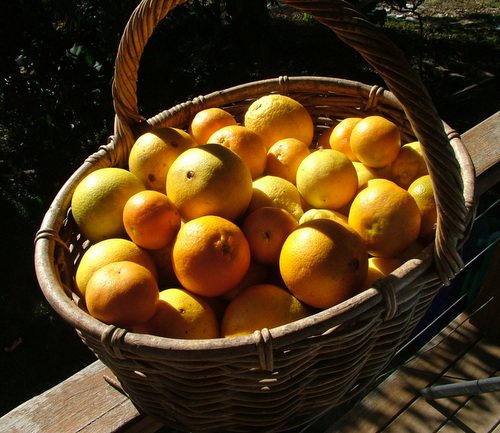 Sunlight in my basket.
Limes, lemons, mandarins, oranges.  So many of them that I am making salted limes for adding to summer soda water and salted lemons for that little salty sour-sweet note that lifts so many dishes out of the ordinary.  I'm making lime syrup for cordial, but not being a real sweet tooth, mostly for Asian style dipping sauce for things like rice paper rolls.   I'm making Indian style Lime Pickle for curries (and for cheese and crackers), and mostly for giving away.  I'm putting lemon and lime skins in cleaning vinegar to make lemon oil vinegar for cleaning – it's my one-and-only cleaning product for floors and stove and shelves.  I'm making lime and ginger marmalade – I can't believe I've never posted that recipe.
But mostly, we are just using them fresh and glorying in the abundance while it lasts.  This time of year tomatoes are scant.  The ones you will be getting in the supermarket will likely be artificially ripened, tasteless, coming from a long way away, and very expensive.  I still get a few cherry tomatoes hanging on in my frost free garden but mostly that cooking niche that needs a bit of sweet acidity is filled by citrus.  So whereas in summer my pasta sauces are mostly tomato based – things like pasta puttanesca –  this time of year they are lemon based – things like lemon caper parsley pasta sauce, or Lemon Feta Tortellini.  Whereas in summer I add tomatoes to beans, in winter I add lemon.  In summer, soups nearly always have tomatoes in them, in winter a squeeze of lemon juice.  Summer salads have tomatoes and feta, winter salads have leafy greens and a lemon dressing.
It's very neat the way tomatoes and lemons tag-team it.