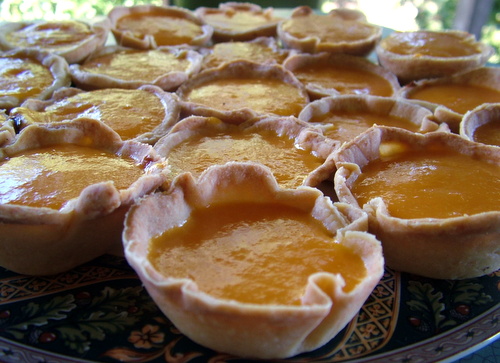 Our glut crop at the moment is mangoes. Mangoes have a good year every second year, and a great year every forth or sixth. We had mango salsa with our poached eggs for breakfast and mango icecream after dinner last night. I've made  mango pickle and mango chutney, a year's supply and some to give away.  Every visitor leaves with a bag of them, and still they come. So tonight, for Brett and Johanna's anniversary party, it has to be a mango plate.
I thought about mango cake – I have a good recipe for a mango upside down cake I should post – but my favourite dish to take to a party is always little tarts.  They make such easily transportable finger food, so easy, and they look so party-food. I've made mango cheesecake before, mixing the mango pulp through the cheesecake mix, but it wasn't a keeper for me.  This one though is. Simple shortcrust pastry, lightly blind baked, then half filled with a slightly lemony cheesecake mix, topped with mango jelly.
The Recipe:
The Pastry:
In the food processor, put
3 cups of plain flour (I use wholemeal because that's what I have, but for party food, I sift the bran out, so it is more like unbleached flour).
6 big dessertspoons of cold butter
1 dessertspoon sugar
Don't overprocess it – little flakes of butter are fine.  The key to making good pastry is not overworking it.
Then add cool water, little bit by little, till the dough holds together in a ball.
Roll the pastry out on a floured benchtop till it is ½cm or so thick, then cut rounds with a small bowl.
Lightly grease muffin or tartlet tins with butter and line them with the pastry.  It will flute a little since the pastry is flat and the muffin tins cups, but that gives a nice shape to the finished tarts.
Bake the pastry cases for around 10 minutes till they are firm but not yet colouring.
The Cheesecake Filling
Blend together
1 tub (250 grams) cream cheese
The same tub three-quarters full (around 200 grams) of plain yoghurt
3 eggs
3 dessertspoons sugar
a teaspoon lemon rind
juice of half a small lemon
a little vanilla essence 
Pour the cheesecake mix into the pastry cases. It should two-thirds fill them all. Bake for another fifteen minutes or so till they are set and the pastry is lightly golden.
Cool before pouring in the mango jelly.
Mango Jelly
You need enough gelatine to set 1 litre of water, so that is two sachets, or 6 teaspoons of powdered gelatine or 12 sheets of leaf gelatine.  Follow the instructions on your gelatine.
The mango pulp though doesn't set as readily as water, so you need 500 ml of mango pulp.
Dissolve the gelatine in 250 ml of boiling water, then mix the gelatine water into the mango pulp to give you 750 ml altogether.
Pour over the cooled cheesecakes to fill the tart cases.
If you can find enough room in the fridge, they set quicker, especially given mango season is summer! In my fridge they take about an hour and a half to set.