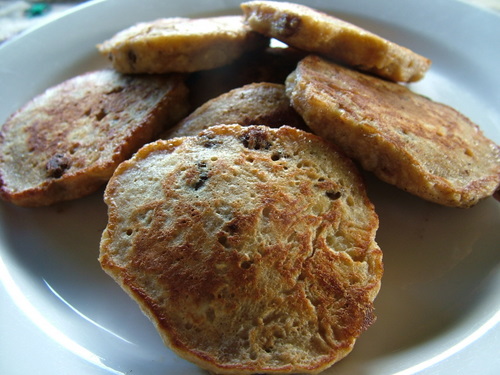 Banana season peaks in February in this part of the world (northern NSW).  Most of our bananas go towards fattening up bush turkeys – my only consolation is how succulent the turkeys are going to be when the real food shortage hits! But although this time of the year, even with the help of possums, flying foxes, and king parrots, the turkeys can't get through them all, in the wake of Cyclone Yasi banana prices are likely to skyrocket, so you might have to get in quick.
Bananas are a great breakfast food.  They're contain both fast and slow carbohydrates, so they give an instant energy boost with a good, low GI afterburn to keep you feeling clear-headed and energetic through to lunch time.  They are very filling for the amount of calories they have, and they contain good levels of potassium, fibre, and a range of of vitamins.
The recipe also contains a couple of eggs  – a good source of  protein along with B12 and choline which is important for brain function. And the other star of the recipe is rolled oats – a low calorie,  low GI carbohydrate, with good amounts of B vitamins and several minerals, and a kind of fibre that is really effective at stopping cholesterol being deposited in your arteries.
The Recipe:
Makes about 9 oatcakes – breakfast for two or three people.  Double the recipe if you want more.
As soon as you get up, pour half a cup of milk and half a cup of plain, old fashioned rolled oats (not quick oats) into a bowl. Let it soak for a few minutes.  It doesn't need long – 10 minutes is enough.
Mix in
2 beaten eggs
2 roughly mashed bananas
2 dessertspoons of sultanas
a good teaspoon of cinnamon
a scant teaspoon of baking powder
a dessertspoon of wholemeal self raising flour
A squeeze of lemon juice is good in it, but not essential.  If you have super-sweet tooths you might add a teaspoon of honey, but I find it sweet enough without.
Heat a (very)  little butter or mild flavoured oil (eg macadamia or grapeseed or canola oil) in a heavy pan.  Over a medium heat, fry desssertspoons of mixture for a few minutes on each side till set and golden.
Eat hot straight out of the pan and avoid the washing up.
[relatedPosts]