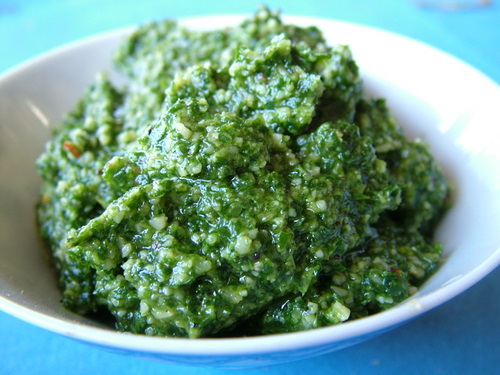 Rocket is rich in a whole range of phytochemicals,  including some that are protective against prostate, breast and ovarian cancers.  It's also rich in folic acid, vitamins A, B, C and K, and a range of minerals including calcium.  But all that is largely irrelevant in the amounts you'd normally eat.  I mean, who puts more than one or two leaves in a sandwich?
Except if you make pesto.  Very very yummy.  Uses a decent amount of rocket. As good as basil pesto. Maybe even better. In pretty much the same range of recipes – on pasta, on a sandwich, and for breakfast on toast.
Especially on a day like today.  It's a fruiting planting day – the first one of the year where I seriously dare to plant all the spring annuals.  So I'm going for a very quick breakfast so I can get out into the shadehouse for an hour or so.
The Recipe:
In the food processor, or with a stick blender, blend together:
a cup (packed) of fresh rocket
¼ cup toasted macadamias (or cashews or pine nuts)
¼ cup parmesan cheese
one clove of garlic
pinch salt
half to one chili (or not)
enough olive oil to make a paste
That's it.  If you are planning to keep any, put it in a jar and pour a little olive oil over the top to cover to keep the bright green colour.
[relatedPosts]