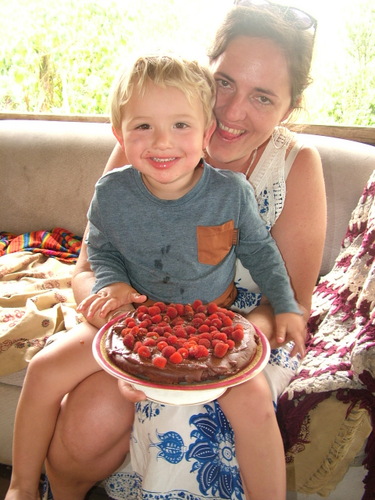 Teo made his first cake.  The cake was not bad at all for a two year old. The wild raspberry topping was the highlight. He and Grumpy (Lewie) went hunting and found all the wild raspberry patches nearby. Only a small proportion made it back for the cake.
Berries are only in season for a short, spring season.  My strawberry patch this year is a victim of a very determined bandicoot all winter, so it's not the big bowlful a day of some years, but still enough for strawberries and pawpaw and orange fruit salad for breakfast, with toasted macas and yoghurt.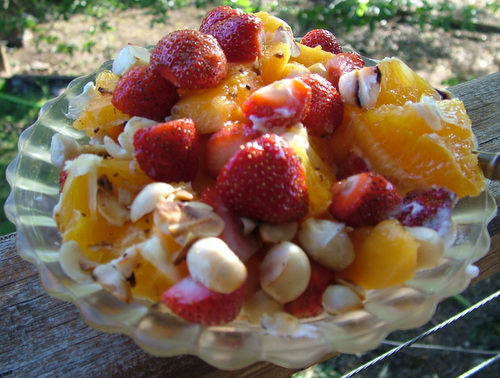 Strawberries should be a luxury food.  A couple of months of indulgence a year, sweetened by a whole year of waiting.  There's this thing with seasonal luxury foods, that they start out expensive and the price encourages every kind of scammy hereticism, pushing them to grow until you get something that is cheap and very very nasty.  Like salmon.  And turkey. And strawberries.  Strawberries are one of the "Dirty Dozen", and the best way to stay classy is to let them be what they are, a late spring treat.  From your garden, or buy organic farmers' market ones now, for a month or so, and remember how good they should be.