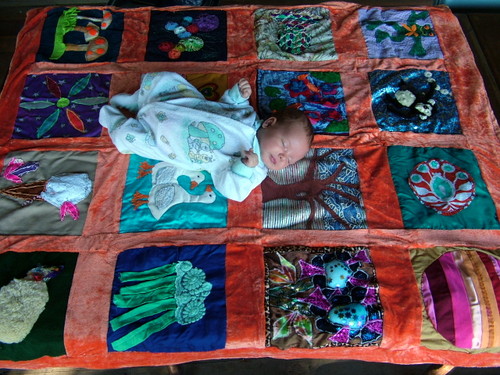 In the community I live in, we have a tradition of making a quilt for any new baby. We choose a theme – for this one it was "things I like", but others have been nursery rhymes, things that fly, beginnings, circles – and a background colour, and invite people to make a square. We generally aim to have it made and ready to give a few weeks after the baby is born, at the first stage when parents are usually ready to bring him or her out to meet a largish group.
I have been looking for the right moment to give Teo his quilt. I thought it might be Christmas but there was too much else going on, and he wasn't focusing yet. Then I thought it might be his naming day which will be in a few weeks time. But then yesterday morning he was lying in bed mesmerised by my quilt that hangs on the wall through summer. So I thought he was ready for his.
There are so many magnificent quilt makers online. This isn't that kind of quilt! Squares are made by kids and teenagers, men, women of all generations, people with no real needleworking skills. They are appliqued, embroidered, fabric painted, found, made from recycled fabrics and salvaged buttons and beads. Often the sewing together and backing is a real challenge to make stretch fabrics and non-square squares fit together.
Usually four or five of us get together for a "Sewing Together Day" to piece it all together, and that's the best fun. It is amazing how beautiful they always turn out. There is a moment when they are all first sewn together and laid out to admire when I always get a sense of wonder that the sum is so much more than the parts.
Mostly the quilts are used as play-mats rather than bed covers. The variety in the textures and colours, the images and connections are rich stimulants for a baby's play and imagination. Stories can be woven around the characters and language practiced on naming the things in squares. It's a lovely soft toy with no "Made in China" tag.
And that, I think, is the important bit. All the labour saving devices of the last century are supposed to have allowed us more time for stuff like this, for art and creativity, for giving time and attention and love to the people closest to us and to future generations.  Kate from Purple Pear has a lovely story today about making a wedding quilt with a friend.
There's a permaculture principle called "Obtain a Yield". One of the interpretations of it is that if you are never getting to harvest anything from a system, then why are you doing it? If we never get to harvest any labour saving from labour saving devices, then you'd have to think there's a giant pea and thimble game going on.