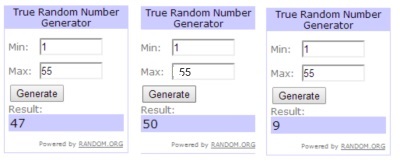 Meg and Claire and Ruth are commenters number 47, 50 and 9 (there were two Ruths too, but this is the first one). I shall email you to find out where to send your copies of Even More Chook Wisdom.
Thank you to everyone who commented. I was overwhelmed and humbled by the number and thoughtfulness of your comments. I am mulling on how to do justice to them all, and I shall probably need a couple of good sessions of mowing meditation to get there (but feel free to prompt).
I have one idea for a series about how to start out with permaculture.  Hindsight is a wonderful thing and I'd like to be able to point out the tarpits I have fallen into over the last 35 years, so that others can avoid them.  I guess the first one in there is that you don't have to wish for the where-with-all to do a tree change as the first step.  But place is important, and then there's design and building and planting.  There's water and fire and power and climate and toilets and transport and community…
I have another idea for a series to do with the challenge of setting up a food garden from scratch.  I am looking to create a new bed and thinking about the challenge:  Can I get from a patch of weedy, shaley, sloping hard ground to dinner parties each weekend several weeks in a row within twelve weeks?  Spending only a minimum of money?  And a minimum of work? And using resources that are freely available?
Succession planting so as to avoid gluts and lean spots is another theme that has emerged, and several people have suggested the idea of broadening out the "What are you planting" and "What are you harvesting" posts so they include other parts of Australia besides my (very lucky) northern NSW sub-tropical climate, and I am thinking about whether I can connect up with some guest posters for that.
I'm also really pleased that people are interested in recipes as well as garden.  Meg suggested that she'd like "stirring sticks" to stir people around her, and I think that was where I wanted to go with recipes, right from the beginning. It is so easy and unthreatening and rewarding to cook something new, so easy to share a recipe that you like, and yet cooking real food from scratch is such an effective and profound insurrection.
So thank you all.  Thank you.