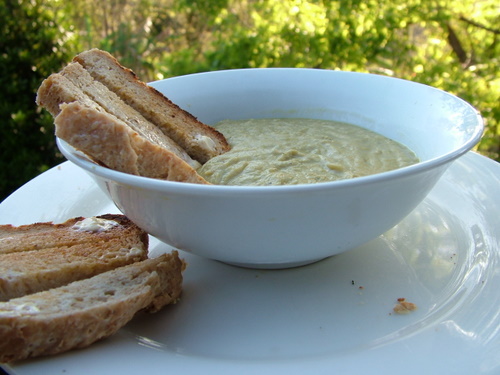 This one is cheating really.  It's not a new recipe at all. It's just Broad Beans on Toast blended. We are still picking lots of broad beans but it is getting towards the end of the season, and there's been six weeks now when, if I ask  "what would you like for breakfast?" the answer is inevitably, unequivocally, eagerly "broad beans".
They are my partner's very favourite breakfast, which creates a problem.  I can't get past the flavour combination of fresh broad beans (fava beans) with lemon, garlic, onion and olive oil.  And he can't get past broad beans.  How many ways can you do broad beans with lemon, garlic, onion and olive oil? This way makes an appearance a couple of times a week.
Broad beans are a good source of low GI complex carbs, protein, and fibre, which means that they keep your blood sugar stable for a long time, so quite apart from the  l-dopa, a broad bean breakfast makes you feel good all day.
The Recipe:
Makes enough for two breakfast bowls.
It's fastest in a pressure cooker, but a pot with a tight lid is fine.
Saute an onion, diced, in a good swig of olive oil.  When the onion is starting to brown, add
two (or more) cloves of garlic, crushed,
a cup of shelled broad beans, (I don't double-peel – too finicky for me, and the fibre in the outer bean is the bit that's really good for you).
a cup of water,
juice of half a lemon
a grinding of black pepper
and a good pinch of salt
Bring to pressure and pressure cook for 5 minutes, or put the lid on and simmer for 10 minutes watching it at the end.  You want the beans to be very soft in just a little liquid.
While it is cooking, make some toast and cut into dipping fingers.
Tip the broad beans into a blender, or use a stick blender to blend to a thick dip consistency. Taste and adjust the salt and lemon juice.
Serve with soldiers for dipping for breakfast or for supper, or, they also work well like this as a side dish with meat (reminiscent of mushy peas), or cold as a dip or spread.
[relatedPosts]
(The Breakfast Cereal Challenge is my 2011 challenge – a year's worth of breakfast recipes based on in-season ingredients, that are quick and easy enough to be a real option for weekdays, and that are preferable, in nutrition, ethics, and taste,  to the overpackaged, overpriced, mostly empty packets of junk food marketed as "cereal" .The Muesli Bar Challenge was my 2010 Challenge.)