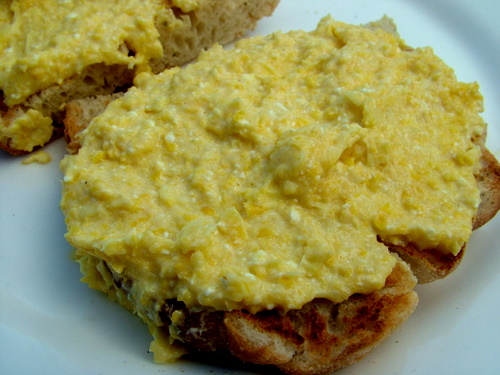 I'm picking sweet corn in my garden at the moment, and even if you aren't growing it, you should be able to find it in season at your local Farmers' Market. This is my favourite breakfast at the  moment.  Sweet corn is low GI, which means that it keeps your blood sugar at a nice stable level for hours which makes you feel energetic and clear headed, and the cottage cheese is a good source of protein and calcium. Even better on homemade sourdough toast.
The Recipe:
(Makes 6 laden slices)
Put toast on to cook.
Strip the kernels from two cobs of corn.  Put them in a pot with just a little boiling water, put the lid on, and boil for just a couple of minutes.
Drain the pot and tip the hot kernels into the food processor with two good dessertspoons of low fat cottage cheese and blend. You can keep it going until it is smooth, or leave it with a bit of texture – your choice.  Add salt and pepper to taste.
Dollop it onto the toast and eat.
[relatedPosts]