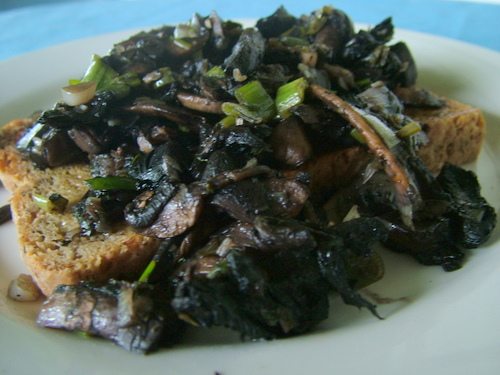 The year is rushing towards the end now. I just realised that there are only five more  Breakfast Cereal Challenges  in this series. Wow, that went fast. And, just as with the Muesli Bar Challenge, I don't feel like I'm anywhere nearly finished.
I've been waiting (impatiently) for garlic season to make this recipe.  It's my very favourite way to eat both garlic and mushrooms.  Garlic and mushrooms are both superfoods, with a wide range of vitamins and minerals including some that are not that common.  They are both among the highest sources for selenium, an essential mineral that is often low, and they both contain phytonutrients that are anti-carcinogens, anti -inflammatory, and generally good for you.  This recipe uses a lot of both.  I'm working at home today, luckily.
(The Breakfast Cereal Challenge is my 2011 challenge – a year's worth of breakfast recipes based on in-season ingredients, that are quick and easy enough to be a real option for weekdays, and that are preferable, in nutrition, ethics, and taste,  to the overpackaged, overpriced, mostly empty packets of junk food marketed as "cereal". The Muesli Bar Challenge was my 2010 Challenge.)
The Recipe
The trick with this is that it is a slow braise, not a stir fry – not too slow for breakfast – but it does need a good ten minutes to cook, preferably fifteen for the garlic oils to penetrate right through the mushrooms.
You need a heavy pot or pan with a lid.
Put it on a medium heat with a good knob of butter and an equal amount of olive oil.
While the butter is melting, chop up lots of garlic (fine) and lots of mushrooms (into slices). I use four cloves per person – a whole corm between the two of us, and half a dozen large field mushrooms each.  The mushrooms will shrink,  so you need a lot more than you think. If you have fresh home-grown garlic, you can use all the tender part of the stem too.
As soon as the butter is melted and starting to froth, turn the heat down low. Put the whole lot of the mushrooms and the (raw) garlic in at once and put the lid on. Cook, checking and stirring occasionally, for 10 minutes or more.
While the mushrooms are cooking, make toast, and chop up a spring onion or two.
Towards the end of the mushroom cooking time, take the lid off if necessary to evaporate the juices. Add the spring onion, a dash of soy sauce, and a squeeze of lemon juice.
[relatedPosts]