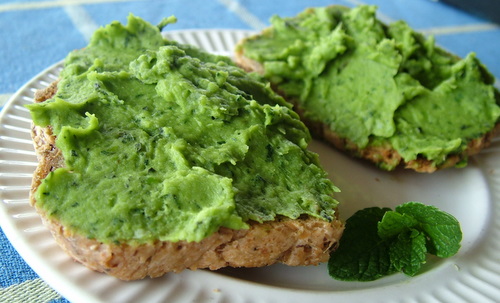 I picked the first of the peas this morning (late because the mice got so many of the early plantings)  and I have been waiting for them for just this recipe.   Super fast and easy, very low GI, very delicious.  Very fresh peas are so sweet, this is almost a sweet paste spread.  Besides all the usual legume nutrients, peas are rich in a phytonutrient called coumestrol, which is good for preventing osteoporosis along with several kinds of cancer, and lowering cholesterol at the same time.
(The Breakfast Cereal Challenge is my 2011 challenge – a year's worth of breakfast recipes based on in-season ingredients, that are quick and easy enough to be a real option for weekdays, and that are preferable, in nutrition, ethics, and taste,  to the overpackaged, overpriced, mostly empty packets of junk food marketed as "cereal" .The Muesli Bar Challenge was my 2010 Challenge.)
The Recipe
For three laden slices of toast:
Pressure cook two-thirds of a cup of fresh, shelled peas in ¼ cup of water with a pinch of salt for just 3 minutes.  (Don't go longer or the water will boil dry and they'll burn).  If you don't have a pressure cooker,  you can simmer the peas in a bit more water, in a pot with a tight fitting lid, for about 9 minutes.  You should end up with very soft peas and no water.
Blend the cooked peas with a teaspoon of olive oil and quite a lot of fresh mint – I use about 20 leaves.
Spread on good wholemeal toast and enjoy.
[relatedPosts]