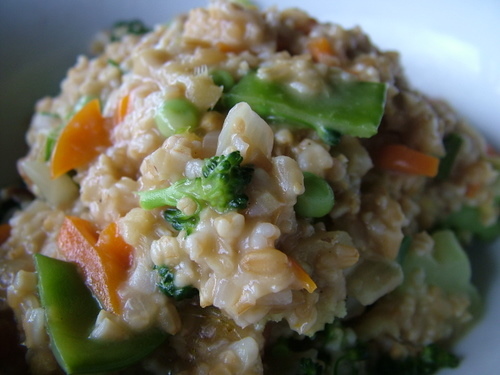 It's not fair.
My partner went to the doctor for a minor thing, and because he is a male of a certain age who almost never goes to the doctor, and because she is good and thorough, he came away with a blood test.
Which gave him a clean bill of health and very good cholesterol levels.
This week I had a blood test but (and he's still gloating about it) mine came back with high cholesterol.  The good news is that it was high for both kinds, good and bad, and higher for the good than the bad.  But still, coming from a family with a history of heart disease, I'd rather it was lower.  Here's hoping our kids inherited his cholesterol genes.
So I have a newfound enthusiasm for oats for breakfast.
Oats are a super food, full of a soluble fibre that lowers bad cholesterol and keeps blood sugar stable. They also have lots of  B vitamins, minerals and phytochemicals. I use oats in bread and baking, but I've only had one porridge recipe in the Breakfast Challenge series because I find porridge a bit bland without lots of sweetener which undoes some of the benefits.
I actually like my oats better savory than sweet, and in a pressure cooker, steel cut oats will cook quickly enough to be a good option. Steel cut oats are whole oats just chopped a bit.  They look like this.  They are available in supermarkets and health food shops. This recipe looks more complicated than it is.  It comes together within about 15 multitasking minutes.
The Recipe:
(For a single serve – multipy by the number of people)
In a pressure cooker or saucepan, sauté half an onion, finely diced, in a little olive oil.
Add a bit of diced carrot and keep sautéing.
Use a garlic crusher or a grater to crush in a clove of garlic, a little knob of ginger and a little knob of fresh turmeric (or a pinch of turmeric powder).
Add a third of a cup of steel cut oats and two cups of water.
Put the lid on the pressure cooker. bring to pressure and cook for 8 to 10 minutes. Or put a lid on the saucepan and simmer for around 30 minutes.
While it is cooking, dice about two thirds of a cup of other vegetables.  I used peas, snow peas, and broccoli.
Release the pressure, stir, add the vegetables and a little dash of soy sauce, tamari or miso. Put the lid back on and cook for just a minute or so longer.
Serve into a bowl and add more soy to taste.
[relatedPosts]