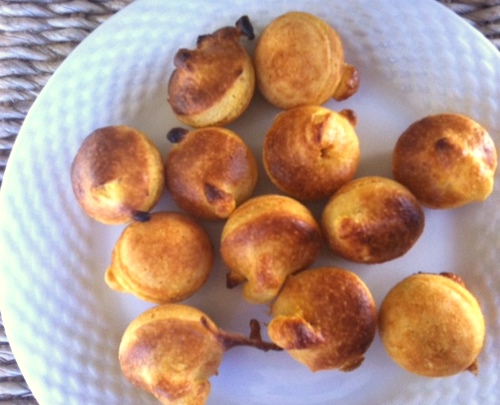 I'm loving my gem iron.  I found it in an op shop, and it's the perfect implement for breakfast baking because gems are so very fast.    This recipe takes just minutes to make – with a bit of practice you can probably have it on the breakfast table within less than 15 minutes. And gone within 20. If you can manage to make enough for leftovers, they go well in a lunch box.  If you can manage to make leftovers.
The Recipe:
Turn the oven on to  high and put the gem iron on the top shelf. It needs to be sizzling hot before you put the batter in.
For a dozen gems, mix together:
a generous ½ cup of  polenta
a generous ½ cup plain flour
good teaspoon of baking powder
good pinch salt
Whisk together
1 large egg
a generous half cup of buttermilk (or substitute  plain low fat yoghurt mixed 50/50 with water)
a dessertspoon of olive oil
Mix the wet mix into the dry mix.  Just whisk them together – don't overmix. You will end up with a  batter like muffin batter.
Take the hot gem iron out of the oven and put a tiny dob of butter in each hollow.  You only need a small teaspoonful altogether.  It will sizzle.  Tilt the iron to spread the melted butter.
Working quickly, spoon the batter into the hot gem iron, filling each hollow two thirds full.
Put a little cube of feta cheese in each gem, and spoon the rest of the batter in on top, so the cheese is in the middle. I made these with Danish feta, which semi-melted beautifully.
Put the tray back in the oven, near the top and up fairly high. Bake for around 6 minutes till the gems are risen, golden and set.
(The Breakfast Cereal Challenge is my 2011 challenge – to the overpackaged, overpriced, mostly empty packets of junk food marketed as "cereal". I'm going for a year's worth of breakfast recipes, based on in-season ingredients, quick and easy enough to be a real option for weekdays, and  preferable, in nutrition, ethics, and taste.  The Muesli Bar Challenge was my 2010 Challenge.)
[relatedPosts]