You can't really call this a proper, by the rules, Breakfast Cereal Challenge recipe. By the rules, breakfast should be low GI – food with "slow burn" carbohydrates to keep you feeling clear headed and energetic through to lunch time.  And potatoes are high GI (though cooking them skin on and mixing them with eggs helps lower it a bit).  But I've started harvesting the potatoes and they are such a treat, and breakfast is such a good meal for them to star in.
I grew kipfers this season – an elongated waxy variety specially good for potato salads and for baking.  The cooler nights so far have made it a good season for them. I don't grow a huge amount of potatoes, and we treat them as a seasonal vegetable rather than a storage staple. I don't really need the calories of potatoes every meal, and fresh in-season spuds spoil you for the supermarket kind. The treatment used to stop them sprouting worries me too. So when they are in season, resistance is futile!
The Recipe:
This works best with a waxy potato variety like kipfer or bintje, desiree, pink fir apple, or red pontiac. It's also a really good way to use the little marble sized potatoes that you always get along with the full size ones.
If you cut your potatoes into large marble size, they take the same time to cook as a medium sized egg hard boiled, so you can cook both in the same pot.
Put a good handful of chopped potato per person and 1 or 2 eggs per person in a pot of cold water. Bring to the boil and simmer for 5 minutes, till the potatoes are just "al dente" and the eggs are hard boiled.
Meanwhile, finely chop a good handful of herbs per person. I like parsley, dill, mint, and aragula or rocket, along with some spring onion greens or chives.  If you still have celery going well, a bit of celery adds a nice crunch. My celery is usually all gone to seed by this time of year, but the unusually cool year means I still have some.
Drain the potatoes, peel and chop the eggs, and toss the lot together with a couple of teaspoons of home-made whole egg mayonnaise per person. Sprinkle with salt and pepper and serve.
Two Minute Mayonnaise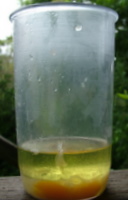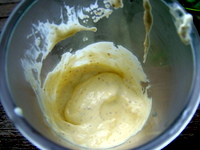 The super easy, super fast, super reliable way to make mayonnaise is with a stick blender. No dribbling the oil in, no splitting, no whisking.
There are two bits of chemistry that make it work.
You put all the ingredients in the blender jug and they separate.  The oil floats on top of everything else.
You put the stick blender in the bottom and start it, and it creates a little vortex, dragging the oil down at the perfect rate to emulsify it.
Works every time. This is the ingredients before blending. And this is them after.
It's so easy, I like to make small amounts of fresh mayonnaise when I need it, rather than a big batch to keep in the fridge. It uses raw egg, so it's good to make with eggs from chooks you know are well fed and healthy.
My version:
Put in the blender jug:
1 whole egg
1 scant teaspoon of seeded mustard
1 clove of garlic
juice of ¼ lemon
good pinch of salt
6 capers (optional)
100 ml of grape seed oil (or canola or sunflower oil – not olive oil – it makes bitter mayo).
Put the stick blender in and let it settle for a minute to separate into layers. Then, with the blender fully submerged, hit the button. Once it has started to emulsify, you can move the blender around to make sure the garlic and capers are blended in.
[relatedPosts]