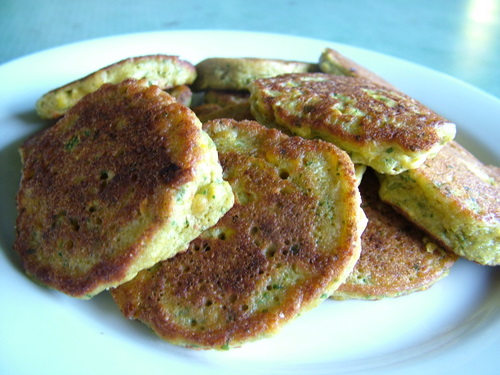 I saw an episode of Jamie Oliver's American Food Revolution, where they were teaching people to cook corn on the cob with chili and lime.  The flavour combination inspired these.  They work really well.
Sweet corn and lime basil are both in season in my garden and I'm just starting to pick the first of the limes. If you don't have lime basil, it's a different recipe but it works with coriander.
What's The Breakfast Challenge? A weekly fast, easy, healthy, ethical, in season recipe to challenge the big boxes of mostly air.
The Recipe:
Strip the kernels from 3 cobs of corn.
In the food processor, blend them with
2 eggs
2 dessertspoons of wholemeal self-raising flour
1 teaspoon baking powder
1 chili (seeds removed)
a good handful of lime basil leaves
salt and black pepper
Blend for a minute until the chili is chopped quite fine through the mix.
Fry spoonfuls of mixture in a little olive oil until they are golden and set.
Eat hot straight from the pan with a squeeze of lime juice.
[relatedPosts]