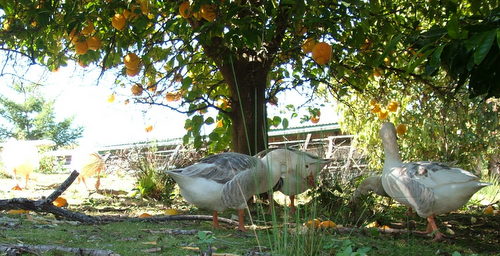 The cockatoos have begun stripping the bush lemon trees.  They are very thorough and very wasteful.  In a few days they'll all be gone. The geese like sitting under the tree in the shade and they're a bit perplexed at all the half-eaten lemons lying around. For some reason the cockatoos don't seem to want the Eureka lemons – the bush lemons are sweeter – more like Myer lemons – and perhaps that's it.  So although we will have Eureka lemons all year round, it's the end of the lemon glut.
We've been eating lots of lemon based recipes and the neighbours have been taking buckets and we have a bucketful in the car to take up to our daughter's.  I've cleaned the oven and the laundry tubs and the brass vase. I've made a dozen jars of lemon skin in methylated spirits to use for cleaning and a jar of lemon skin in vodka to use for massages. I've soaked all the luffas in lemon juice and put them out in the sun to bleach (working on the theory that it used to be a favourite hair blonding technique, so maybe it might work on luffas?)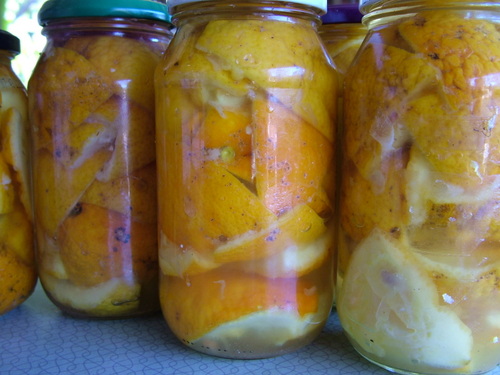 Lemon skins in methylated spirits.  The spirits will go yellow and the lemon skins white as the oils dissolve out.  I add a dash to cleaning vinegar (bottom shelf in the cleaning aisle in my local supermarket) to make a year's supply of lovely smelling, potent cleaner for sink, stove, tubs, surfaces and floor. Then I can skip that aisle all year.
I use cheap vodka in place of the metho to make the same kind of lemon-oil-in-alcohol solution for rubbing on aches and pains, and for repelling mozzies and sandflies.  I used to use rubbing alcohol from the chemist, but vodka is cheaper 🙂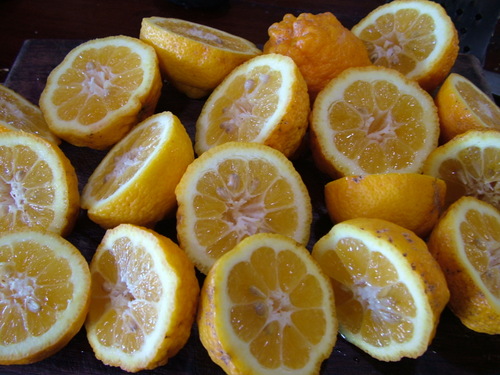 They're lovely lemons, but I think I've reached the point where the cockatoos can have the rest.
[relatedPosts]