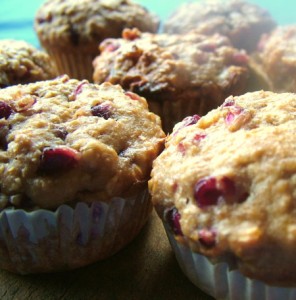 This is what seasonal cooking is all about. The mangoes are all but finished, and now it's pomegranates! Luckily pomegranates are also a superfood – high in vitamins C, A, E, potassium and folic acid, and higher than green tea in antioxidants.
This recipe uses the whole arils (or seeds) to give a little pop of sweetness as you bite into them. The macadamia pieces are optional – I've tried half with and half without, and we'll see which my school-age reviewers prefer.
This is the second in my Muesli Bar Challenge series. I am aiming for a recipe a week that school age kids prefer to the overpackaged junk food marketed as suitable for lunch boxes. The Challenger has to be within the Witches Kitchen version of healthy and ethical, and it has to be easy enough for busy parents or kids themselves to make. (If you missed it, last week's Mango Lunchbox Cake made the score one from one so far).
The Recipe:
1/3 cup rolled oats
2/3 cup wholemeal SR flour
scant teaspoon baking powder
1/3 cup brown sugar
1/2 teaspoon cinnamon
Put these first 5 ingredients (all the dry ingredients) in the blender or food processor, and blend just enough to break up the oats and mix thoroughly.
1 egg
1 tablespoon plain yoghurt
1/3 cup orange juice (juice of 1 orange)
Whisk these next 3 ingredients together in a small bowl and then stir into to the dry ingredients.
2/3 cup pomegranate arils (one pomegranate)
2/3 cup macademia pieces (optional)
Stir in the pomegranate arils (seeds), and, if you like, the macadamia pieces, and spoon the mix into muffin cups (makes 8 medium muffins)
Bake for 25 minutes or so until they spring back.
[relatedPosts]