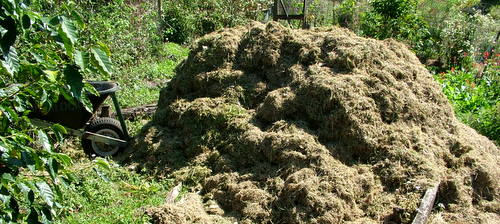 I like mowing.  One of the few "things" I really love is my mower.  I had a horrible beast of a Briggs and Stratton for years and I have no affectionate memories at all of it.  It was demanding, unreliable and very needy.  But then I met a 5.5 horsepower Honda self propelled walk-behind, and we've been getting on really well for years now.
It's just hard enough work for me to feel entirely justified ignoring the gym.  A few kilometres of power walking, a bit of aerobic exercise pushing it uphill, a bit of weight training emptying the bag, a bit of stretching and flexing.  The perfect workout.
I call it my "mowing meditation" and I come up with all my best ideas after about half an hour of walking round in circles behind a mower with earmuffs on.   The first half hour gets rid of all the little buzzing worries and vexations that clog up a brain.  The second half hour is full of "I wonder if" thinking.
And last, and I guess least though it's still pretty good, I end up with mulch for the garden, and with enough mulch every other bit of gardening just works.
I've been doing an hour of mowing most mornings lately, first thing in the morning before work.  It yields me a uteload of mulch each time.  Sometimes I work in public but at the moment it's just me in a little office, which is just as well since I must look a sight in my mowing gear.
The chooks get a barrowload a day which they are scratching over for seeds, pooing in, and turning into sheet compost for the next bed. The fruit trees are getting a bit of horse manure and some mulch.   The current garden beds are all getting mulched up, protecting the soil, reducing the need to water, and encouraging worms.  I have a new compost pile on the go which will give me compost for potting mix for my seedlings, so I can grow them on in the shadehouse and plant them out as quite advanced seedlings.  And the mulch mountain is giving me a nice sense of garden security as we head into what could be a hot dry summer.
[relatedPosts]