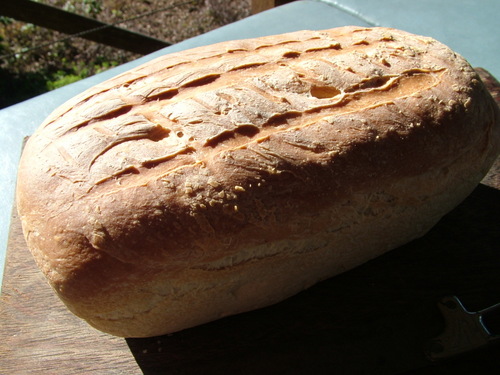 I don't usually do white bread, but, in the interests of science 😉 I made the first loaf out of my new Römertopf pan a white bread with the idea of seeing if I could reproduce Celia's Römertopf White Sourdough Loaf.
And it was supurb.
I took it warm down to the "morning after" party after our winter solstice celebration last weekend, and it disappeared in a thrice.
But, for someone who believes so much in science, I'm not very good at it.  You couldn't say it was an exact reproduction.  I didn't want to make a huge loaf, so I reduced all the proportions. This is my version of Celia's version of Joanna's white bread formula.
The Recipe:
Step One:
Put 1½ cups of fed sourdough starter in a bowl and leave, covered, on the benchtop for around 8 hours.
Step Two:
Then add:
About 3 teaspoons of olive oil
1 scant teaspoon of salt
1 good teaspoon of brown sugar
1½ cups of baker's flour.
Tip another half a cup of baker's flour on the benchtop, and knead briefly to get a smooth, not sticky dough.
Put a little swig of olive oil in a bowl, and swish the dough around in it to cover, and leave it to prove in a warmish spot for another 8 hours or so.
Step Three:
Flour the benchtop again and knead the dough very briefly again, then put it in the oiled Römertopf pan. Slash the top with a sharp knife and leave, covered, in a warmish place for another hour or so, until it is well risen (about double in size).
Put the pan of bread dough in the kitchen sink and (carfully, so as not to wet the dough) fill the sink with hot water up to the lip.  My hot water out of the tap (from our solar hot water system), this time of year  is hot but not boiling. You can put your hand in it.
Leave to soak for 10 minutes, then put the pan in a cold oven and turn the oven on.  My gas oven is antique and the temperature is unreliable, but you don't want it too hot – my second go at baking it in my mother's modern oven was too hot and it cooked too quickly, resulting in a doughy middle.
This one though cooked perfectly in 40 minutes, coming out with a thin crisp crust and a lovely texture.  Not marshmallow soft like bought white bread but light and dense at the same time. Perfect  for the morning after the party warm from the oven with butter and honey and good coffee. Yum.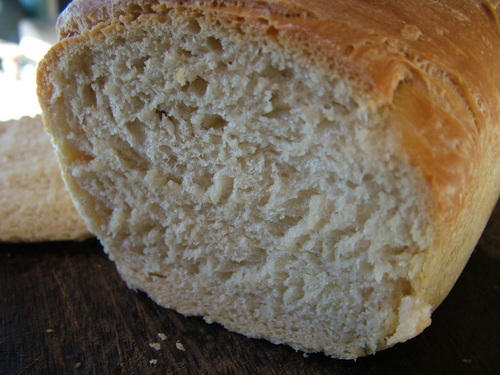 [relatedPosts]