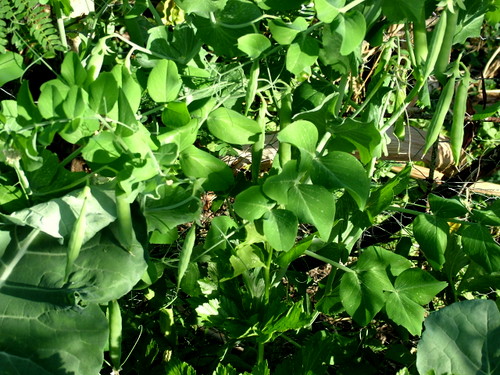 My glut crop this week is peas, and they are only a glut crop because my kids are grown up.   For years, all through pea season, a whole gang of kids would arrive after school and feast on peas straight from the vine. The cry of "two hands, use two hands to pick" is still a family joke.
These are Willow, or Sommerwood peas, seeds a gift from Celia at Fig Jam and Lime Cordial. They've done well enough for me to save some seed for next year, but they haven't stolen my heart.  I like tall climbing peas, since I have to fortress fence my garden beds against everything from brush turkeys to bobuck possums, so I need to use the vertical space productively.  And these are only about 80 cm tall.
I've had a few favourite varieties over the years.  Telephone is still my favourite of the tall climbers, though it is a bit prone to powdery mildew if we get a warmer and wetter than usual winter.  In all the years of open, unfenced gardens, I swore by Greenfeast.  They're a dwarf variety that bears really prolifically, peas so sweet that I very rarely got any to cook.
One of the minor benefits of being between parent and grandparent generation – I get to eat peas.  But I still can't  think of any better way of dealing with a glut of peas than a gang of kids.
[relatedPosts]